Duane Morris Cherry Hill and Philadelphia Offices Add Environmental Law Partner Phil Cha
November 8, 2016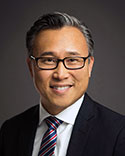 CHERRY HILL, N.J., November 15, 2016—Phil Cha has joined Duane Morris LLP as a partner in the firm's Cherry Hill, N.J. and Philadelphia offices. Cha enhances the firm's litigation, energy and environmental law capabilities regionally, nationally and internationally. He joins Duane Morris from Archer & Greiner, where he served as vice chair of the firm's Environmental Law Group and Chair of the firm's Diversity & Inclusion Committee. Cha has a national practice focused on general litigation, environmental litigation, mass tort and products liability matters. Cha also has significant experience in regulatory compliance and advice, brownfield development and environmental transactions. He has served as lead counsel in representing Fortune 100 and privately held companies throughout the United States and abroad. Cha has handled state and federal cases related to environmental contamination, mass and toxic torts, products liability and business disputes. He also has extensive experience advising clients on regulatory compliance, management of environmental liabilities, and the sale and development of contaminated properties.
Cha is active in the Asian American bar associations in New Jersey, Pennsylvania and New York, along with nonprofit organizations, including the Law School Admission Council's DiscoverLaw Program. Law360 named him a "Rainmaker" in 2016 and a "Minority Power Broker" in 2015. In 2014, he was named "Professional Lawyer of the Year" by both the New Jersey State Bar Association's Commission on Professionalism and the New Jersey Asian Pacific American Lawyers Association.
Cha is a 1999 graduate of Rutgers Law School and a 1995 graduate of Rutgers School of Environmental & Biological Sciences.
About the Duane Morris Cherry Hill Office
Established as a result of the firm's addition in 2009 of WolfBlock LLP's Cherry Hill practice, attorneys in this office provide a broad array of services to organizations in a wide range of industries, with a client base that includes Fortune 500 companies, privately held middle-market companies, emerging growth companies and entrepreneurs. Drawing on the resources of one of the nation's largest law firms, Duane Morris attorneys bring national capabilities informed by local experience and are dedicated to finding effective solutions to the host of challenges that confront the firm's clients in today's complex and rapidly changing business environment.
About Duane Morris
Duane Morris LLP provides innovative solutions to today's multifaceted legal and business challenges through the collegial and collaborative culture of its more than 750 attorneys in offices across the United States and internationally. The firm represents a broad array of clients, spanning all major practices and industries.