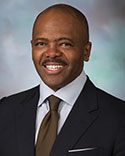 WASHINGTON, February 9, 2016—Duane Morris LLP is pleased to announce that Joseph K. West, Duane Morris' Chief Diversity and Inclusion Officer and a partner in the firm's Trial Practice Group in the Washington, D.C. office, will receive The Incredible Men (TIM) Award from Ms. JD—a nonprofit, nonpartisan organization dedicated to the success of aspiring and early career women lawyers. The TIM Award recognizes the recipient's work, dedication, energy and passion for diversity and the advancement of women in the legal profession. West will be honored at "Superwomen JDs," Ms. JD's Eighth Annual Conference on Women in the Law, on February 19, 2016, in New York City.
West has more than 20 years of experience as both in-house and outside counsel for Fortune 500 companies. He served as president and CEO of the MCCA from 2011 to 2015, nearly tripling membership in the organization during his tenure. At. MCCA, West implemented programs that increased the organization's ability to expand opportunities for women and minority lawyers. He created the MCCA Academy for Leadership and Inclusion, a training program designed to identify barriers to inclusion in the profession and to eradicate them, as well as the MCCA Blueprint program and the MCCA Exchange to help in-house counsel with career development and law firm members to hone their business development skills. In addition, West established MCCA as the point organization for the Engage Excellence program, which tracks the amount of spending that major corporations direct to women and minority lawyers.
Before joining MCCA, West was associate general counsel at Walmart Stores, Inc., serving as head of the outside counsel management group. In that role, he also overhauled Walmart's outside counsel guidelines to require all external firms to implement flexible work policies as a condition to doing business with the company. West also implemented a requirement that each such firm certify in writing annually that the relationship partners selected by Walmart were receiving origination credit for the firm's work. Prior to his role at Walmart, West was assistant general counsel at Entergy Corporation, a Fortune 250 Utility Company based in New Orleans, where he handled numerous high-profile trials.
In 2014, West was awarded both the Beacon of Diversity Award from the Black Entertainment and Sports Lawyers Association and the Louis L. Redding Lifetime Achievement Award from the Delaware Barristers Association. The Washington Business Journal honored him with its 2014 Minority Business Leader Award. Each year since 2013, West has been named to the Power 100 list of the nation's most influential minority attorneys by Lawyers of Color, Inc., and he was named a CUP Catalyst by the Council of Urban Professionals on its inaugural 2012 list. In 2010, he was named In-House Counsel of the Year by the National Bar Association. West was appointed by American Bar Association (ABA) President Paulette Brown to the ABA Commission on Diversity and Inclusion 360, has served on the ABA Commission on Racial and Ethnic Diversity in the Profession and is a member of the ABA Task Force on the Financing of Legal Education. He was also a member of the Association of Corporate Counsel's ACC Value Challenge Steering Committee.
West is a 1986 graduate of Tulane Law School and earned his B.A. in journalism from Southern University. He has served as an adjunct professor of trial advocacy at Tulane Law School.
About Duane Morris
Duane Morris LLP, a law firm with more than 750 attorneys in offices across the United States and internationally, is asked by a broad array of clients to provide innovative solutions to today's legal and business challenges.