US-Based Law Firm Joins Forces with Renowned Singapore Corporate and Financial Services Team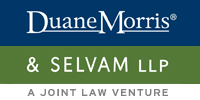 PHILADELPHIA and SINGAPORE, January 1, 2011—U.S. law firm Duane Morris LLP and Singapore law firm Selvam LLC today commenced their new Singapore-based joint venture. With the affiliation, formally known in Singapore as an Enhanced Joint Law Venture, Duane Morris will strengthen its capabilities, access and presence in Asia through Selvam's top-ranked corporate practice, and Selvam will be able to leverage Duane Morris' full scope across four countries and 20 U.S. cities. The new venture will operate in Singapore as Duane Morris & Selvam LLP.
The joint venture is the first U.S.-Singapore joint venture to be approved by Singapore as part of the enhanced liberalization of its legal services market in 2008. Duane Morris has had an office in Singapore since 2007, headed by partner Eduardo Ramos-Gómez, the former Mexican Ambassador to Singapore. In addition to Singapore, Duane Morris also operates two international law offices in Vietnam and London.
Selvam LLC focuses on mergers and acquisitions, takeovers, corporate finance, banking and securities, corporate restructures, financial services, international joint ventures and Islamic finance. The firm represents publicly listed companies, investment banks, individuals and numerous large and small private companies from around the world. Selvam is regularly ranked among Singapore's top corporate finance and mergers and acquisitions law practices by Chambers & Partners, Leading Lawyers and the International Financial Law Review 1000, which have also noted its reputation as a "pioneer" in the Islamic banking and financial services market. The firm is jointly led by managing directors Arfat Selvam and Krishna Ramachandra.
"This is a watershed moment for our two firms," said John Soroko, Chairman of Duane Morris. "The Selvam firm has distinguished itself as a premier transactional practice with a reputation for sophisticated and creative client service and repeated success in markets in Asia and elsewhere. Duane Morris is pleased and honored to join forces in Singapore with Arfat and her team, and we anticipate that Singapore will become our focal point for Asian expansion."
"Duane Morris' profound experience in international corporate transactions, its relationships throughout the world and its commitment to Singapore and the Asian region as a whole make it a natural fit for our firm," said Mrs. Selvam. "This new venture will provide a strong platform for us to service our clients in the region," she added.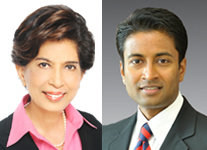 Mrs. Selvam has practiced corporate finance law for more than 40 years, beginning her distinguished career during the expansion of Singapore's financial services sector. She has served on many boards, including as Director of CapitaLand Ltd. She was a member of the government–appointed Company Law Reform Committee, which made major recommendations affecting the companies and securities laws in Singapore. Mrs. Selvam was President of The Law Society of Singapore in 2003.
Ramachandra heads the firm's corporate finance practice group. He is regularly cited as one of Singapore's leading corporate lawyers by major legal directories, and advises issuers, funds, investment banks, and public and private companies in Asia, Europe and the U.S. on a wide range of equity and debt securities issuances, compliance and regulatory matters, as well as mergers and acquisitions.
All of Duane Morris and Selvam's operations in Singapore have been consolidated in their new office space:
Duane Morris & Selvam LLP
16 Collyer Quay, #17-00
Singapore 049318
The goals of the Enhanced Joint Law Venture (EJLV) model are to bolster Singapore as a financial hub, promote the use of Singapore as the governing law in regional and international transactions and retain Singaporean lawyers in their home market. In an EJLV, foreign law firms are able to partner with Singapore counterparts to employ local lawyers and participate in business growth.
About Duane Morris
Duane Morris LLP, a full-service law firm with more than 700 attorneys in 24 offices in the United States and internationally, offers innovative solutions to the legal and business challenges presented by today's evolving global markets. The firm is regularly asked to provide a broad range of transactional, litigation, dispute resolution, banking, corporate, financial services, intellectual property, employment, wealth management and other services by the most sophisticated clients, ranging from Fortune 500 and middle market companies to financial institutions, sovereign funds, private equity and venture capital interests. The firm is recognized by such noted third party authorities as Chambers USA for its leading national practices.