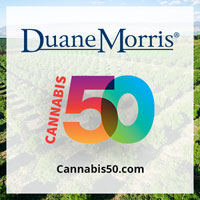 Duane Morris is pleased to announce its inclusion in the inaugural Cannabis 50 Impact Report, presented by MGO | ELLO.
The report honors a wide range of people, organizations and entities making an impact across the cannabis, hemp and CBD culture. Duane Morris is recognized in the Knowledge and Health category as a business "pushing the boundaries of our understanding and sharing the complexities of cannabis, hemp, and CBD with the world" and for "providing legal education and guidance to cannabis."
From the report:
Duane Morris was the first Am Law 100 firm to engage cannabis on a national platform. Their legal teams support clients across the cannabis supply chain, assisting with regulations, financial transactions, and general litigation. The practice is led by Partner and Cannabis Team Leader Seth Goldberg. They extend support to the entire cannabis community with their regular series of informational webinars exploring regulatory, business and financial complexities.
For more information, visit the Cannabis 50 website.