Duane Morris Lawyer Neil Bason Appointed Bankruptcy Judge for Central District of California
October 27, 2011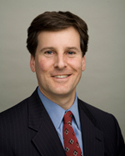 LOS ANGELES, October 27, 2011—Duane Morris congratulates Neil Bason, special counsel in the firm's Business Reorganization and Financial Restructuring Practice Group in its San Francisco office, for his selection as a judge in the United States Bankruptcy Court for the Central District of California. He was sworn in on October 24, and his chambers will be in the Edward R. Roybal Federal Building and Courthouse in Los Angeles. Bason will serve a 14-year term.
Bason's appointment marks the eighth time in recent years that a current or former Duane Morris attorney has been named a federal judge. Former Duane Morris partner James Peck is a judge in the U.S. Bankruptcy Court for the Southern District of New York, and former partner Robert Grossman serves as a judge in the U.S. Bankruptcy Court for the Eastern District of New York. Former Atlanta partner Neil Olack is a judge in the U.S. Bankruptcy Court for the Southern District of Mississippi, and Karen Overstreet serves as a judge in the U.S. Bankruptcy Court for the Western District of Washington. In addition, former Philadelphia partners Gene E.K. Pratter and Michael Baylson are judges with the U.S. District Court for the Eastern District of Pennsylvania. Former partner Marjorie Rendell serves on the U.S. Court of Appeals for the Third Circuit.
"In his time at Duane Morris, Neil has proven himself to be a skilled lawyer with a great aptitude for bankruptcy law," said John Soroko, Chairman of Duane Morris. "He joins an esteemed group of former Duane Morris attorneys appointed to the federal judiciary. He will serve the bankruptcy bench with distinction, and we wish him all the best."
At Duane Morris, Bason practiced in the area of business reorganization and financial restructuring. His practice encompassed representation of secured and unsecured creditors, trustees, receivers, entities in bankruptcy or engaged in workouts, and third parties with interests in distressed debt situations. He has been active in insolvency organizations, including as an officer with the Insolvency Law Committee and with the California Bankruptcy Forum, and he has written extensively on insolvency law matters. He has also been a regular contributor to the annual Recent Developments in Business Bankruptcy program, sponsored by the Bar Association of San Francisco and the Bay Area Bankruptcy Forum.
Before joining Duane Morris, Bason was in private practice for a decade in the San Francisco area and in Massachusetts. In addition, from 2000 to 2008, he served as a law clerk to Judge Dennis Montali of the U.S. Bankruptcy Court for the Northern District of California and the Bankruptcy Appellate Panel of the Ninth Circuit. Following law school, Bason was a law clerk to Chief Justice Paul J. Liacos of the Supreme Judicial Court of Massachusetts.
About Duane Morris LLP
Duane Morris LLP, a full-service law firm with more than 700 attorneys in offices across the United States and around the world, offers innovative solutions to the legal and business challenges presented by today's evolving global markets. The firm's California offices serve clients across numerous practice areas, including insurance and reinsurance; commercial litigation; bankruptcy; corporate and securities matters; mergers and acquisitions; energy and water issues; intellectual property; and real estate, among others. Duane Morris' four offices in the state—San Francisco, San Diego, Los Angeles and Lake Tahoe—boast a total of 100 attorneys.