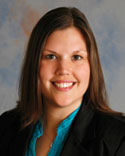 Maxine D. Bayley
SAN FRANCISCO, May 13, 2020—Duane Morris associate Maxine D. Bayley has been elected as chair of the 2020-2021 American Immigration Lawyers Association (AILA) Northern California Chapter board of directors. AILA is a national association of immigration lawyers established to promote justice, advocate for fair and reasonable immigration law and policy, advance the quality of immigration and nationality law and practice, and enhance the professional development of its members. AILA's Northern California Chapter currently has nearly 1,000 members.
Bayley practices in the area of immigration law, representing clients in matters involving the employment of foreign nationals in a variety of industries, with a particular focus on intracompany transfers of managers, executives and employees with specialized knowledge. Her practice also involves representing individuals regarding adjustment of status and naturalization applications, as well as nonimmigrant and immigrant waivers of inadmissibility. In addition, Bayley has experience with Violence Against Women Act (VAWA) petitions, asylum, federal court litigation, drafting complaints and motions for summary judgment and with appeals to the Board of Immigration Appeals and petitions for review in the U.S. Circuit Courts of Appeals for the Fourth, Eighth and Ninth Circuits.
Bayley is a graduate of the American University, Washington College of Law (J.D., 2004), where she represented individuals in the International Law and Human Rights Clinic, and a graduate of Gonzaga University (B.A., 2001).
About Duane Morris
Duane Morris LLP provides innovative solutions to today's multifaceted legal and business challenges through the collegial and collaborative culture of its more than 800 attorneys in offices across the United States and internationally. The firm represents a broad array of clients, spanning all major practices and industries.