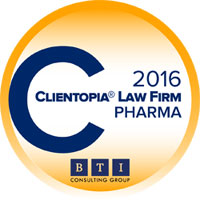 Duane Morris has been named to the "BTI Power Rankings 2016" list as a top 10 law firm for the pharmaceutical industry.
The report gives Duane Morris "Clientopia" status for maximizing the client's value while developing new business in the process.
BTI president Michael Rynowecer told Law360 that industry-specific knowledge is a key factor in reaching Clientopia.
"These firms that make it to Clientopia have conversations about issues that impact the [general counsel's] life," Mr. Rynowecer said. "They will help clients with their networking; they will introduce their client to like-minded clients who may face similar issues."
Duane Morris lawyers have significant experience representing pharmaceutical and biotechnology companies on all matters, including corporate compliance, due diligence, products liability and intellectual property issues, as well as the complexities involved in bringing generic pharmaceuticals to market.
For more information on BTI reports, please visit the BTI Consulting Group website.