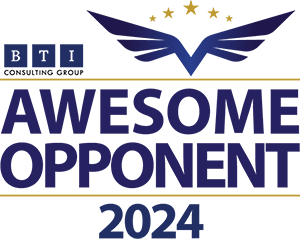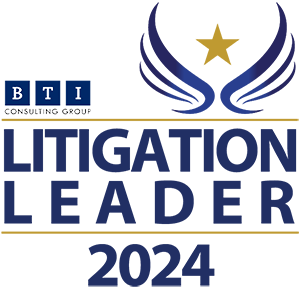 Duane Morris has been named an Awesome Opponent and a Litigation Leader in multiple categories in BTI Consulting Group's Litigation Outlook 2024. The firm was ranked a Litigation Leader in Employment Litigation and Complex Employment Litigation (indicating that Duane Morris is in the top 2% of all firms in both categories). Duane Morris was also named a Distinguished Firm in Complex Commercial Litigation (top 5% of all firms) and a Standout Firm in IP Litigation (top 11% of all firms), Class Action Litigation (top 11% of all firms) and Commercial Litigation (top 14% of all firms) by BTI Consulting Group. Overall, Duane Morris was designated an Awesome Opponent among the top 19 firms for litigation in BTI's research.
According to BTI:
As litigation (of all types) is starting to pile up in what is expected to be a tsunami of litigation, corporate counsel reevaluate their options of law firms based on:

Current performance
Response-to-date to the pandemic
Ongoing interactions
Prior performance

Business is getting more complex with more complicated agreements and commercial transactions. Agreements are also worth a lot more money now—a formula for a continuing stream of bigger and more complicated litigation… . Clients want law firms bringing an early assessment and risk evaluation.

A blizzard of new regulations combined with one of the most demanding workforces in decades is driving this market. Employees are more prone to take actions, as are agencies at the federal, state and local levels… . Labor and employment is the top issue for corporate counsel and HR executives. They want law firms who share experiences from their industries. These clients want to know a claim's impact at an operational level—and the strategy to overcome it…
For more information, please visit the BTI Consulting Group website.