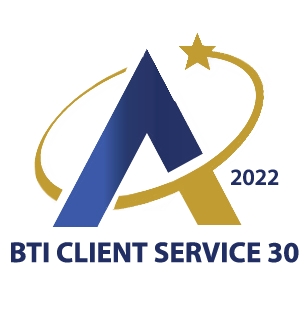 PHILADELPHIA, April 5, 2022—Duane Morris LLP has been named to the BTI Client Service 30: Best of the Best in Client Service Delivery. The designation, part of BTI Client Service A-Team 2022: Survey of Law Firm Client Service Performance, marks the firm's second appearance among what BTI Consulting Group considers the "elite firms that outperform everyone else" in terms of client service. According to the BTI research, Duane Morris is ranked at No. 12—up from No. 14 in 2021—among the 650 core law firms that serve Fortune 1000 and large private clients.
Based on BTI's annual survey of a broad cross section of more than 350 general counsel and associate general counsel at organizations with $700 million or more in revenue, the report describes Duane Morris as having six years of steady ascension and having "solidified their commitment to client service excellence." The firm received "Best of the Best" recognition in client focus and providing value.
"Client service has always been the ultimate goal and guide of our work here at Duane Morris," said Duane Morris Chairman and CEO Matthew A. Taylor. "The last two years of uncertainty have cemented the importance of our client relationships and our commitment to establishing true partnerships with our clients as we work to help them enhance their business goals. To be recognized for our efforts again by BTI Consulting and our clients is a great honor."
BTI's report notes that, "Clients award Duane Morris Best of the Best recognition in client focus, as the firm exhibits deep understanding of their client's business goals, even as they are providing value for the dollar. Combined with leadership in understanding client's business and unprompted communication, Duane Morris leverages the most valued aspects of client service."
Additional client comments include:
"Duane Morris are great on offensive case work, execute at a high level and are highly effective."
"Deals with us with respect and able to provide all types of advice and partners with project teams."
"They provide great strategy and always keeps the business objectives in mind."
According to BTI's in-depth interviews, only 281 law firms were singled out by legal decision-makers for their prowess in at least one of the 17 activities driving superior client relationships. The activities include: deals with complexity; provides practical solutions; fields the absolute best team; commitment to help; client focus; understands your client's business; provides value for the dollar; anticipates client's needs; innovative approach; deals with unexpected changes; quality products; legal skills; keeps clients informed; handles problems; meets core scope; unprompted communication; and advises on business issues.
About Duane Morris
Duane Morris LLP provides innovative solutions to today's multifaceted legal and business challenges through the collegial and collaborative culture of its more than 800 attorneys in offices across the United States and internationally. The firm represents a broad array of clients, spanning all major practices and industries. Duane Morris has been recognized by BTI Consulting as both a client service leader and a highly recommended law firm.