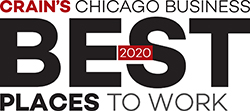 CHICAGO, August 11, 2020—Duane Morris LLP is pleased to announce that the firm's Chicago office has been named a 2020 "Best Place to Work" by Crain's Chicago Business, ranking number 10 out of 100 Chicagoland businesses profiled. The firm ranked second in the large business category and was the only law firm to make the list. Previously, the Chicago office was named to the 2019, 2018 and 2017 "Best Places to Work" lists, and in 2016, was named a "Best Place to Work for Women Over 35."
This year, a record 14,522 employees participated in the Crain's survey about their workplaces. For more information, visit the Crain's Chicago Business website.
Other Duane Morris offices have been recognized in recent years for being among the best places to work. Philly.com, the website affiliated with the Philadelphia Inquirer and the Philadelphia Daily News, named the Philadelphia office as a "Top Workplace" in 2016, 2017, 2018 and 2019.
About the Duane Morris Chicago Office
Duane Morris' Chicago office offers a wide array of services to clients throughout the United States and internationally. Attorneys in Chicago work closely with their colleagues in the firm's other offices nationally and internationally in a wide range of areas, such as complex litigation and alternative dispute resolution; white-collar criminal litigation; corporate securities, mergers and acquisitions; complex financial transactions, banking and financial services; financial markets; private equity and venture capital; business reorganization and financial restructuring; health law; insurance and reinsurance; products liability; toxic torts and public safety; energy, environment and resources; international trade; intellectual property; employment and immigration law; real estate; information technology and telecommunications; and construction.
About Duane Morris
Duane Morris LLP provides innovative solutions to today's multifaceted legal and business challenges through the collegial and collaborative culture of its more than 800 attorneys in offices across the United States and internationally. The firm represents a broad array of clients, spanning all major practices and industries.