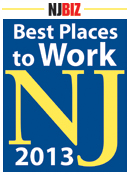 NEWARK AND CHERRY HILL, February 21, 2013—Duane Morris LLP is pleased to announce that the firm has again been selected as one of the Best Places to Work in New Jersey by NJBIZ. This is the third year in a row that Duane Morris' offices in New Jersey have been cited on the list. The firm will be honored during an awards dinner and ceremony on Thursday, April 25, 2013 at the Hilton East Brunswick.
Companies from across the state entered the two-part process to determine the 100 Best Places to Work in New Jersey. The first part consisted of evaluating each nominated company's workplace policies, practices, philosophy, systems and demographics. This phase was worth approximately 25% of the total evaluation. The second part consisted of an employee survey to measure the employee experience. This phase was worth approximately 75% of the total evaluation. The combined scores determined the top companies and the final ranking.
Both the Newark and Cherry Hill offices of Duane Morris provide an array of services to organizations in a wide range of industries, with a client base that includes Fortune 500 companies, privately held middle-market companies, emerging growth companies and entrepreneurs. Drawing on the vast resources of one of the nation's largest law firms, Duane Morris attorneys bring national capabilities informed by local experience and are dedicated to finding effective solutions to the host of challenges that confront the firm's clients in today's complex and rapidly changing business environment.
For more information, please contact Newark Office Managing Partner Walter J. Greenhalgh or Cherry Hill Office Managing Partner Hersh Kozlov.