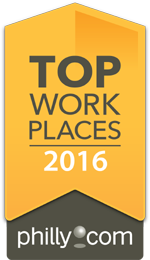 PHILADELPHIA, March 24, 2016—Duane Morris LLP is pleased to announce that the firm has been named a 2016 "Top Workplace" in the region by Philly.com, the website affiliated with The Philadelphia Inquirer and Philadelphia Daily News. The Top Workplaces list is based on an employee survey administered by WorkplaceDynamics, LLC. Duane Morris was recognized in the Large Companies category and was honored at Philly.com's seventh annual awards dinner and ceremony in Philadelphia on March 16, 2016.
"We are very pleased to receive this award and, more importantly, to know that our attorneys and staff are thriving under the uniquely collegial and collaborative culture here at Duane Morris," said John J. Soroko, Chairman and CEO of the firm.
Throughout its expansion into major markets around the United States and across the world, Duane Morris has remained an important part of the Philadelphia legal community. Philadelphia is the firm's present-day headquarters and home to more than 200 of its 750 attorneys.
Workplace Dynamics is a research firm specializing in organizational health and workplace improvement. This year, it surveyed 172 companies, with a total of 88,426 local employees. The final product of the survey is a list of the top 100 workplaces for 2016, which comprises the 30 highest-ranked large employers, 35 midsize organizations and 35 small firms.
The Workplace Dynamics criteria for the list include:
1) Alignment—employees' belief that the company is moving in the right direction and that it operates with strong values and ethics, cooperation and positivity;
2) Effectiveness—how efficient the company is perceived to be, how well it communicates with employees, and if new ideas and innovations are encouraged; and
3) Connection—whether the company enables employees to work at their full potential, if employees feel appreciated, find their jobs meaningful and feel well-informed about major company decisions.
Other Duane Morris offices have been recognized in recent years for being among the best places to work. The firm's Cherry Hill and Newark, N.J. offices were named Best Places to Work in New Jersey by NJBIZ in 2012 and 2013. In 2010, Crain's Chicago Business named the firm's Chicago office a Best Place to Work.
About Duane Morris
Duane Morris LLP, a law firm with more than 750 attorneys in offices across the United States and internationally, is asked by a broad array of clients to provide innovative solutions to today's legal and business challenges.