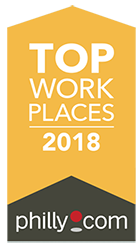 PHILADELPHIA and CHERRY HILL, N.J., March 14, 2018—Duane Morris LLP has been named a 2018 "Top Workplace" in the region by Philly.com, the website affiliated with The Philadelphia Inquirer and Philadelphia Daily News. The Top Workplaces list is based on an employee survey administered by WorkplaceDynamics, LLC. The Duane Morris Philadelphia and Cherry Hill, N.J. offices participated in the survey. Duane Morris ranked sixth in the Large Companies category and was the only large law firm to be recognized.
"We are honored to receive this award for the third consecutive year," said Matthew A. Taylor, Chairman and CEO of the firm. "It is gratifying to know that the collegial and collaborative culture we aim to create at our firm is truly recognized by our attorneys and staff."
Throughout its expansion into major markets across the United States and around the world, Duane Morris has continued to be a pillar in the greater Philadelphia legal community. Philadelphia is the firm's headquarters and home to more than 200 of its 800 attorneys.
Workplace Dynamics surveyed 189 companies, with a total sample of 77,641 local employees. The final product of the survey is a list of the top 125 workplaces for 2018, which comprises the 30 highest-ranked large employers, 40 midsize organizations and 55 small firms.
The employee survey seeks responses from 24 statements covering seven areas, including organizational health factors that measure how well employees are working together toward a common cause:
• Alignment – where the company is headed, its values, cooperation
• Effectiveness – doing things well, sharing different viewpoints, encouraging new ideas
• Connection – employees feel appreciated; their work is meaningful
• My Manager – cares about concerns, helps learn and grow
In addition, the survey asks employees about other factors, including: employee engagement; confidence in company leadership; and pay, benefits and flexibility.
About Duane Morris
Duane Morris LLP provides innovative solutions to today's multifaceted legal and business challenges through the collegial and collaborative culture of its more than 800 attorneys in offices across the United States and internationally. The firm represents a broad array of clients, spanning all major practices and industries.