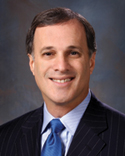 PHILADELPHIA, February 13, 2017—Duane Morris LLP partner Alan C. Kessler has been reappointed to the Pennsylvania Intergovernmental Cooperation Authority (PICA) for a two-year term. Kessler was appointed by Pennsylvania Senate Democratic Leader Jay Costa (D-Allegheny). PICA was created on June 5, 1991, by the Pennsylvania Intergovernmental Cooperation Authority Act for Cities of the First Class to provide financial assistance to the City of Philadelphia during a severe financial crisis. The special administrative body is charged with restoring financial stability and achieving balanced budgets in the city.
Kessler's past public service activities include: serving on the Clinton/Gore presidential transition team; being appointed by President Clinton as the vice chair of the Presidential/Congressional Commission on Risk Assessment and Risk Management (1994-1998); and serving as a member of the board of governors of the United States Postal Service, an appointment by President Clinton that was confirmed by the U.S. Senate. He was elected chair of that board in 2008, having served as vice chair since 2005, and President Obama appointed him to a second term, which the Senate confirmed in 2009. Kessler also has served as finance vice chair of the Democratic National Committee (DNC), as a national finance vice chair of Gore 2000, as a national finance chair of Hillary for President in 2008 and on the national finance board of Hillary for America in 2016.
On a regional level, Kessler was a township commissioner for Lower Merion Township and a member of the Philadelphia City Planning Commission. He previously acted as co-chair of the transition committee for Mayor Edward Rendell and later as co-chair of Governor Rendell's transition team, as well as a member of the Executive Committee of Philadelphia in 2000. Kessler was a member of the Electoral College for the Commonwealth of Pennsylvania in 2000. Additionally, he was a member of the board of directors of the Philadelphia Industrial Development Corporation, the city of Philadelphia Planning Commission, and chair of the City of Philadelphia's License Review Board. Currently he is a member of Drexel University, Penn Medicine Campaign Board, the Central Philadelphia Development Corporation, where he serves as a member of the executive committee, and on the board of the World Affairs Council. Kessler was also appointed by the Pennsylvania Supreme Court as chair of the Supreme Court's Continuing Legal Education Board.
Kessler practices in the area of commercial litigation with a focus on class actions and other complex litigation, government relations and general counseling. He represents real estate developers, banks, airlines, healthcare institutions and hospitals and alternative energy companies. Kessler has worked with a wide range of clients, including small closely-held entrepreneurial companies, closely-held public companies, Fortune 100 companies, real estate developers, real estate management companies, healthcare providers, franchisors, franchisees, electronics companies, consumer product companies, municipal authorities, the Commonwealth of Pennsylvania, the City of Philadelphia, Philadelphia Authorities and other governmental agencies.
Kessler is a 1975 graduate, with honors, of the University of Maryland School of Law and a graduate, with honors, of the University of Delaware.
About Duane Morris
Duane Morris LLP provides innovative solutions to today's multifaceted legal and business challenges through the collegial and collaborative culture of its more than 750 attorneys in offices across the United States and internationally. The firm represents a broad array of clients, spanning all major practices and industries.