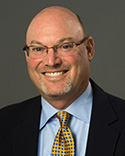 Brad A. Molotsky
Duane Morris partner Brad A. Molotsky has been named to The National Law Journal's inaugural list of Real Estate / Construction Law Trailblazers.
The list honors professionals who "are truly agents of change." The publication writes:
PIONEER SPIRIT Obtaining his law degree and MBA simultaneously, Brad Molotsky always knew he wanted to do transactional work. "I wanted to help people build stuff rather than take a stand when it falls apart." Starting at a big firm in Philadelphia working with mergers and acquisitions, securities and real estate, he was later involved in affordable housing and joined Duane Morris in 2016, where he continues to work with the area.

TRAILS BLAZED As co-head of one of the first Opportunity Zone practice groups in the U.S., Molotsky focuses on the areas of OZ fund creation and deployment. Created as part of the Tax Cuts and Jobs Act of 2017, the OZ designation allows for capital gains to be deferred and reduced for certain investments held for 10 years. "For most of 2018, we were talking about this, and no one was interested, even smart real estate people. Then, people came back after that summer, and everyone wanted to talk about it." In 2019, Molotsky and his group closed 38 OZ deals-primarily for owners, operators and developers. He has now begun to represent investors. "It is an interesting, effective means of driving capital into tricky areas with no two deals being the same. Some are interested in social justice or sustainability, while others are looking to make money. And some charities are starting to use it to maximize donations."
FUTURE EXPLORATIONS Molotsky believes capital flow into Opportunity Zones will continue to increase. "You get to reduce the amount of tax you are subject to by 10%, incentivizing more people to invest. It will be quiet for a few years afterward, as they start to build and create these businesses. But when the first phase of the program ends in 2026, everyone will be considering structuring as an OZ fund."
About Duane Morris LLP
Duane Morris LLP, a law firm with more than 800 attorneys in offices across the United States and internationally, is asked by a broad array of clients to provide innovative solutions to today's legal and business challenges.
Republished with permission from law.com.