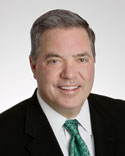 CHICAGO, June 3, 2015—Duane Morris partner Charles B. Lewis of the firm's Chicago office is one of only 11 mediators appointed to the American Arbitration Association's (AAA) Midwest Master Mediator Panel. Lewis was also named to AAA's Construction Mega Project Panel of Arbitrators earlier this year. AAA is a not-for-profit organization that provides arbitration services to individuals and organizations who wish to resolve conflicts out of court.
The Midwest Master Mediator Panel was selected using a rating committee made up of a diverse group of advocates and in-house counsel representing clients in complex, high-stakes disputes. There are approximately 100 Master Mediators spread throughout the country and divided by region.
The AAA Construction Mega Project Panel of Arbitrators was created in response to industry demands, in conjunction with lawyers and construction industry professionals who specialize in construction mega projects. The initial panel of 56 top-rated arbitrators was selected based on credentials and experience in construction mega projects throughout the country.
Lewis concentrates his practice in the area of construction law and litigation and is a member of Duane Morris' Construction Practice Group. He represents general contractors, construction managers, owners, architects and engineers, design builders, subcontractors, and material suppliers in matters involving contract drafting, contract negotiation, breach of contract claims, claims for extras, delay, disruption, loss of productivity, excessive change orders, out-of-scope work, and claims involving mechanic's liens. Certified as a mediator by the International Mediation Institute, Lewis has acted as a mediator in more than 350 construction disputes for AAA; mediates for the International Centre for Dispute Resolution; and the Circuit Court of Cook County, Court Annexed Major Case Civil Mediation Program, run by the Circuit Court of Cook County. An active member of the Society of Illinois Construction Attorneys and a Fellow of the College of Commercial Arbitrators, he is cited by Chambers USA as a leader in the area of construction law.
Lewis is a 1976 graduate of the University of San Francisco School of Law and a graduate of the University of Michigan.
About Duane Morris
Duane Morris LLP, a law firm with more than 700 attorneys in offices across the United States and internationally, is asked by a broad array of clients to provide innovative solutions to today's legal and business challenges.