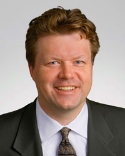 CHICAGO, February 11, 2011—Duane Morris Chicago partner Jeffrey L. Hamera, as a member of the Engineers Without Borders Chicago Professional Chapter (EWB-CPC), is helping to organize an effort to provide the people of the remote town of Canchias, Honduras, with safe and efficient means to access vital farm and dairy land through the Canchias Agricultural Bridge Project.
The goal of the Canchias project is to construct a 120-foot, single-lane bridge that would unlock the potential of a prime parcel of agricultural land in the remote town. The 110-acre plot is currently isolated by the Yure River and a steep mountain ridge. The new bridge would allow cars and trucks to reach the land and facilitate the expansion of a Rotary International–sponsored dairy farm as well as the development of tilapia farms and agricultural training facilities by Land and Water Resources International (LAWRI). The Canchias project team is currently in the homestretch of fundraising, design and construction efforts for the bridge, having already raised $72,750 of the $88,000 budget. For more information, please visit http://ewbcanchias.wordpress.com/.
A former engineer, Hamera has been a member of EWB since 2007. In 2009, he was involved with EWB-CPC's Armenta project, which constructed a pedestrian bridge for the community of Armenta Lirios in Honduras. The completion of that project allowed 1,000 local residents to safely cross a dangerous river, providing them access to a local school, medical center and community center that were otherwise unreachable during the long rainy season.
"Working with Engineers Without Borders has been a truly rewarding experience and a great way for me to stay involved as an engineer in an industry I now serve as a lawyer," said Hamera. "I am honored to be a part of a project with such a meaningful cause behind it and look forward to traveling to Canchias to assist with the bridge construction."
Hamera is a litigator who focuses on the construction industry. He represents clients on matters involving contract drafting and negotiation for design agreements, construction contracts, EPC contracts and design/build agreements. Prior to becoming a lawyer, Hamera worked as a professional engineer for clients in the nuclear power, pharmaceutical, petrochemical and manufacturing industries. He is a cum laude graduate of Northwestern University School of Law and received his bachelor's and master's degrees in Civil Engineering from the University of Illinois at Urbana-Champaign.
EWB is an international organization that supports impoverished communities in Third World countries by providing design and construction services for water supply, sanitation, transportation and other infrastructure projects.
About Duane Morris
Duane Morris LLP, a full-service law firm with more than 700 attorneys, in 24 offices in the United States and internationally, offers innovative solutions to the legal and business challenges presented by today's evolving global markets.