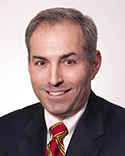 PHILADELPHIA, May 2, 2016—Duane Morris LLP partner Lawrence J. Kotler of the firm's Philadelphia office has been named president of the Consumer Bankruptcy Assistance Project (CBAP). Kotler will serve a two-year term at CBAP, an independent 501(c)(3) nonprofit organization that assists individuals living below the federal poverty level to stabilize their finances through debt and budget counseling linked to pro bono chapter 7 bankruptcy representation. In its 24th year of operations, it is the only organization of its kind in the Philadelphia region.
Duane Morris has a long history of supporting CBAP, beginning with the late David Sykes, a partner who was a founder of CBAP, served as its first president and chaired its inaugural board of directors. Kotler has been involved with CBAP since 1994, representing individual clients and serving on its executive committee of the board of directors.
Kotler practices in the area of reorganization and finance, representing chapter 11 debtors-in-possession, chapter 11 trustees, chapter 7 trustees, liquidating trustees, creditors' committees, secured creditors and large institutional unsecured creditors in all facets of bankruptcy. He is certified as a business bankruptcy specialist by the American Board of Certification. Kotler is a frequent speaker on bankruptcy and creditors' rights issues. He is a member of the American Bankruptcy Law Institute, as well as a member of the American, Pennsylvania, New York, Delaware and Philadelphia bar associations. Kotler is a past chairman of the Eastern District of Pennsylvania Bankruptcy Conference and a member of the Delaware Inn of Courts. He has been listed in Chambers USA: America's Leading Business Lawyers for the last 10 years and has been named to The Best Lawyers in America list since 2009.
Kotler is a 1986 graduate of the Boston University School of Law and a graduate of the University of Pennsylvania.
About Duane Morris
Duane Morris LLP, a law firm with more than 750 attorneys in offices across the United States and internationally, is asked by a broad array of clients to provide innovative solutions to today's legal and business challenges.