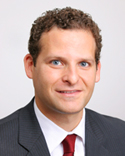 PHILADELPHIA, April 2, 2013—Duane Morris LLP is pleased to announce that partner Lawrence H. Pockers has been selected by the Support Center for Child Advocates (Child Advocates) as a Distinguished Advocate for 2013. The award celebrates the extraordinary efforts of individuals who help children in Philadelphia. Pockers has been a longtime pro bono child advocate, representing many abused and neglected children in Philadelphia in addition to serving on the Child Advocates' Volunteer Committee. He will receive the award at the Child Advocates 2013 Annual Benefit Reception & Auction on April 10 at the Crystal Tea Room (Wanamaker Building) in Philadelphia.
In much of his work for Duane Morris, Pockers represents clients nationally in complex commercial litigation, with a primary focus on non-compete, trade secrets and unfair competition cases. He was lead trial counsel in: The Valspar Corporation v. Van Kuren; Missett v. HUB International of Pennsylvania, LLC; and IKON Office Solutions, Inc. v. Dale. He also has significant experience handling many other types of complex commercial cases, including real estate and other business disputes; securities litigation, with an emphasis on disputes between customers and broker/dealers and/or registered representatives; litigation involving the licensing and implementation of software; and mass tort products liability litigation.
In 2012, Pockers was selected by the Philadelphia Business Journal as one of its "40 Under 40" honorees. He was also selected in 2011 and 2012 as a Pennsylvania "Rising Star" in the area of Business Litigation by Super Lawyers, a Thomson Reuters publication. Pockers is very active in the community. He currently serves as the executive chairman for the American Red Cross, Penn-Jersey Region's Center City Legal Initiative and is vice chairman of the board of directors for the American Red Cross, Penn-Jersey Blood Services Region. He is also an officer of the Alumni Board of his alma mater, American University. In addition to his work with the Support Center for Child Advocates, he also coaches Little League baseball in Lower Merion Township. Pockers is a magna cum laude graduate of Temple University School of Law, and also graduated with honors from American University.
About the Support Center for Child Advocates
The Support Center for Child Advocates provides legal assistance and social service advocacy for abused and neglected children in Philadelphia County. Since its founding in 1977, Child Advocates has trained more than 3,500 attorneys who contribute pro bono services valued at more than $3.5 million annually. Child Advocates seeks to protect children by securing social services, finding alternative homes and helping them testify in court.
About Duane Morris
Duane Morris LLP, a global law firm with more than 700 attorneys in offices across the United States and around the world, is asked by a broad array of clients to provide innovative solutions to today's legal and business challenges. Duane Morris' Pro Bono Program provides free legal services to those in our communities least able to afford them. The importance of pro bono work and volunteerism has been an integral part of the firm's culture since its inception more than 100 years ago.