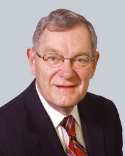 PHILADELPHIA, November 10, 2015—Duane Morris LLP is pleased to announce that Lewis F. Gould, Jr., a partner in the firm's Philadelphia office, has been reappointed to the Temple University Board of Trustees for a four-year term. Gould has served as a member of Temple's Board of Trustees since 1985. The board has final authority and responsibility for the policies and governance of the university.
Gould is the immediate past chairman of Duane Morris' Intellectual Property Practice Group, having served in that capacity from 1999–2011. He has focused his practice for more than 40 years on intellectual property law, with emphasis on domestic and international patent and trademark matters. Gould advises clients on a broad spectrum of patent and related issues in a variety of technologies. He advises clients in trademark and copyright matters, including clearance, registration and litigation. Gould also manages patent and trademark litigation before the United States Patent and Trademark Office and in federal courts, locally and nationally.
Gould is a 1966 graduate of The Dickinson School of Law and earned his undergraduate degree from Temple University in 1962. He is chairman of the board of trustees of Fox Chase Cancer Center and a member of the board of trustees of Temple University Health System. Gould is currently serving a three-year term as chair of the board of the Pennsylvania Lawyers Fund for Client Security.
About Duane Morris
Duane Morris LLP, a law firm with more than 700 attorneys in offices across the United States and internationally, is asked by a broad array of clients to provide innovative solutions to today's legal and business challenges.