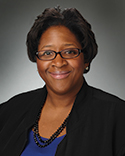 Lisa Scruggs
Duane Morris partner Lisa T. Scruggs has been recognized in Crain's Chicago Business list of Notable Minorities in Accounting, Consulting & Law 2019.
Crain's writes:
At Duane Morris, Lisa Scruggs provides litigation and counseling work for education and school reform organizations, including charter and private schools. She has handled cases involving new school development, virtual education, teacher evaluation, school finance and parent/student civil rights. Scruggs joined Duane Morris in 2014 from Jenner & Block, where she was a partner. Scruggs was senior policy adviser to the CEO of Chicago Public Schools in 2004-06 and a member of the blue-ribbon commission to evaluate magnet and selective schools admission policy in 2010-11. Scruggs is a member of Duane Morris' Chicago office inclusion committee and was on the firm's Women's Impact Network for Success steering committee. She is on the advisory board of the Alliance of Public Charter Schools.
For more information, visit the Crain's website.