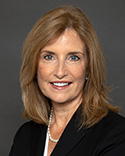 PHILADELPHIA, October 23, 2018—Duane Morris LLP partner Sandra A. Jeskie has been appointed a fellow of the Chartered Institute of Arbitrators (CIArb). She was also named to the Silicon Valley Arbitration and Mediation Center (SVAMC) 2018 Tech List, a listing of the World's Leading Technology Neutrals.
CIArb is a leading international center for alternative dispute resolution with 15,000 members across 133 countries. It provides education and training for arbitrators, mediators and adjudicators. It also acts as a global hub for practitioners, policy makers, academics and those in business, supporting the global promotion, facilitation and development of all ADR methods.
SVAMC serves the global technology sector by promoting business practical resolution of disputes. The SVAMC Tech List is a peer-vetted directory of leading technology neutrals, limited to "exceptionally qualified arbitrators and mediators known globally for their experience and skill in crafting business-practical legal solutions in the technology sector."
Ms. Jeskie is an experienced litigator, arbitrator, mediator, judge pro-tempore and special master to the courts in a variety of technology and commercial disputes. Her practice includes commercial litigation, software, IP and IT litigation, privacy, data security, and information technology. Ms. Jeskie is chair of the firm's Information Technologies and Telecom Practice Group and served as president of the International Technology Law Association (ITechLaw). She is a member of the American Arbitration Association's (AAA) Roster of Neutrals.
Ms. Jeskie is recognized and respected for her deep knowledge of law and technology. Due to her background as a computer scientist and her MBA degree, Ms. Jeskie can speak easily with technology and business professionals, as well as judges and lawyers. Ms. Jeskie is a co-author of chapters in the acclaimed treatise Business and Commercial Litigation in Federal Courts and has taught at nearly 100 professional education conferences in numerous cities around the United States and in 14 countries in Europe, Asia and South America. Law360 listed her as "Best-of-the-Best Attorneys" and "Cream of the Crop Litigators."
Ms. Jeskie earned her J.D. from Temple University Beasley School of Law, magna cum laude. She graduated with an M.B.A. from La Salle University, where she also earned her B.A. in computer science.
About Duane Morris
Duane Morris LLP provides innovative solutions to today's multifaceted legal and business challenges through the collegial and collaborative culture of its more than 800 attorneys in offices across the United States and internationally. The firm represents a broad range of clients, spanning all major practices and industries.