Duane Morris Partner Terrance J. Evans Honored with Minority Bar Coalition Unity Award
December 4, 2018

SAN FRANCISCO, December 4, 2018—Duane Morris LLP partner Terrance J. Evans of the firm's San Francisco office has been honored by the Minority Bar Coalition (MBC) with a Unity Award. The Unity Awards recognize MBC members who have been exemplary in promoting the cause of diversity and inclusion in the legal profession in Northern California. The awards were presented on November 13 during the MBC's Unity Awards reception held at UC Hastings Law School.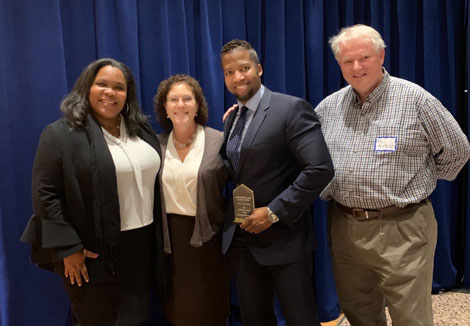 Evans is co-chair of the Duane Morris San Francisco Diversity and Inclusion Committee and serves as the West Coast vice chair of the firm's Banking Practice Group. His practice is focused on representing the financial services industry, which includes international, national and community banks; loan service companies; and insurance companies. During his career, Evans has both recovered and saved clients of the firm tens of millions of dollars in settlements, judgments and extrajudicial procedures.
Additionally, Evans is the Co-Chair of the American Bar Association ICLC Diversity & Inclusion Committee, and he's a member of the Minority Corporate Counsel Association (MCCA) N-Gen Advisory Board where he provides leadership on diversity and inclusion issues throughout the United States. Evans is also a board member and General Counsel of the Charles Houston Bar Association, a board member of The Bar Association of San Francisco, and a board member and treasurer of the California Lawyers Association, Litigation Section.
In 2017, Evans received the President's Award from the Charles Houston Bar Association for his service to the legal community. In 2016, the National Bar Association named Evans one of the top 40 attorneys in the United States under the age of 40. He has been recognized by Super Lawyers of Northern California multiple times. In 2007, Evans was named one of the top 100 minority associates in the United States by the Stakeholder Organization. Evans has also received special honors from the NAACP, the Congressional Black Caucus, the 100 Black Men of Los Angeles, the Young Black Scholars Program, the Association of Business Trial Lawyers, the American Bar Association, the Black Women Lawyers Association of Los Angeles, the American Legion, and many other organizations.
Evans is a graduate of Loyola Law School in Los Angeles, with recognition. He also graduated from Cornell University, where he was a Cornell Tradition Fellow.
About the Minority Bar Coalition
The Minority Bar Coalition (MBC) is a network of over 40 diverse bar associations dedicated to working in a unified manner to advance the cause of diversity in the legal profession. MBC does this by sharing best practices and resources in bar association programming and advocacy, finding issues of common cause and building shared platforms.
About Duane Morris
Duane Morris LLP provides innovative solutions to today's multifaceted legal and business challenges through the collegial and collaborative culture of its more than 800 attorneys in offices across the United States and internationally. The firm represents a broad range of clients, spanning all major practices and industries.