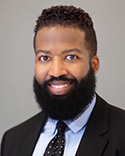 SAN FRANCISCO, September 20, 2016—Duane Morris partner Terrance J. Evans of the firm's San Francisco office has been named to the Minority Corporate Counsel Association (MCCA) N-Gen (Next Generation) advisory board. N-Gen comprises 13 in-house and law firm attorneys throughout the country who are tasked with assisting MCCA in its efforts to promote diversity and inclusion in the legal profession nationwide. Board members were chosen—following a nationwide search—from a group of attorneys who have 12 to 20 years of law practice experience and are recognized leaders in their law firm or corporate law departments.
Evans is co-chair of the Duane Morris San Francisco Diversity and Inclusion Committee and serves as the West Coast Vice Chair of the firm's Banking Practice Group. He represents clients in complex commercial litigation in the areas of commercial banking, real estate and insurance coverage. He has successfully handled numerous multimillion-dollar cases in federal and state trial and appellate courts throughout California and other jurisdictions. Evans recently obtained a defense judgment in Los Angeles County Superior Court for a client in the largest coordinated securities action in California history involving claims in excess of $200 million. He also recently defended a judgment on appeal in a multimillion-dollar case pending before the California Court of Appeal.
Evans has dedicated hundreds of hours to pro bono service, which has included securing child support payments for children; protecting indigent families from wrongful evictions; fighting for government benefits for disabled citizens; seeking asylum for families facing persecution; and teaching trial advocacy to intercity children.
Evans is a member of the Executive Committee of the State Bar of California, Litigation Section; co-chair of the American Bar Association's Diversity Subcommittee for the Insurance Coverage Litigation Committee (ICLC); 2016 co-chair of the ICLC Annual Seminar; and the past chair of the Association of Business Trial Lawyers Leadership Development Committee of Northern California.
Evans has been honored by many organizations, including the Leadership Council on Legal Diversity; NAACP; Congressional Black Caucus; 100 Black Men of Los Angeles; Young Black Scholars Program; American Legion; and many others. Evans was recently named by the National Bar Association as one of the top 40 attorneys in the United States under age 40.
Evans is a graduate of Loyola Law School in Los Angeles, with recognition. He also graduated from Cornell University, where he was a Cornell Tradition Fellow.
About Duane Morris
Duane Morris LLP provides innovative solutions to today's multifaceted legal and business challenges through the collegial and collaborative culture of its more than 750 attorneys in offices across the United States and internationally. The firm represents a broad array of clients, spanning all major practices and industries.