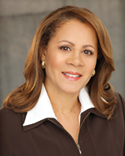 LOS ANGELES, November 7, 2014—Duane Morris LLP is pleased to announce that Yvette Roland, a partner in the firm's Los Angeles office, has been appointed a judge of the State Bar Court of California's Hearing Department. Selected by Toni Atkins, the Speaker of the California State Assembly, Roland was sworn in during a ceremony in San Francisco on November 6. Her chambers are located in the Los Angeles office of the State Bar of California.
The independent State Bar Court conducts hearings on disciplinary cases that have been filed by the State Bar's Office of Chief Trial Counsel. The court has the power to recommend suspension or disbarment of attorneys who commit professional misconduct or are convicted of serious crimes. California is the only state in the nation with independent professional judges dedicated to ruling on attorney disciplinary cases. The Hearing Department is the trial level of the State Bar Court, consisting of five full-time judicial positions split between Los Angeles and San Francisco.
"Over the years, Yvette has been a tireless advocate for her clients in and out of court, and she has made significant contributions to our Los Angeles office and Trial Practice Group alike," said John Soroko, Chairman and CEO of Duane Morris. "We will certainly miss her, but we are confident that she will serve with great distinction in this enormously important role."
At Duane Morris, Roland focused her practice in the areas of complex civil and commercial litigation, insurance coverage and employment law. Since she began practicing law in 1987, she has been lead trial counsel on a diverse array of cases involving copyright infringement, trademark infringement, defamation, premises liability, environmental coverage, products liability and franchisor/franchisee litigation. Roland also represented employers against wrongful termination, retaliation, unfair competition, breach of contract, wage and hour, harassment and discrimination claims arising on the basis of race, religion, sexual orientation and national origin. While she was a seasoned litigator in state and federal courts, Roland resolved many multimillion-dollar disputes by implementing appropriate alternative dispute resolution measures.
Roland has served as a board member and past president of the Black Women Lawyers Association of Los Angeles, and she is a board member of the Black Women Lawyers Foundation and the California Association of Black Lawyers. She also is a member of the American Bar Association, John M. Langston Bar Association and the National Bar Association.
Roland earned her J.D. in 1983 from the University of California at Los Angeles School of Law, where she was a member of the UCLA-Alaska Law Review. She graduated with a B.A., with honors, from the University of California, Riverside in 1973 and earned an M.A. from Stanford University the next year. She served as an Immigration Law Counselor at the UCLA Office of International Students & Scholars, and was a law clerk to the Honorable Terry J. Hatter, Jr. of the U.S. District Court for the Central District of California. She occasionally serves as a UCLA moot court judge.
About Duane Morris
Duane Morris LLP, a law firm with more than 700 attorneys in offices across the United States and internationally, is asked by a broad array of clients to provide innovative solutions to today's legal and business challenges.