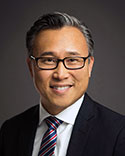 Phil Cha
Duane Morris partner Phil Cha has been recognized with a Philadelphia Business Journal 2020 Minority Business Leader Award.
The awards are based on demonstrated business success over the past 12 to 18 months, including professional accomplishments, community leadership and philanthropy, as well as awards and milestones.
Highlights from Mr. Cha's profile:
Duane Morris' energy industry practice increased its revenue by 43% in two years under Phil Cha's leadership as team lead. Cha has represented major companies, such as ExxonMobil, Sunoco and Occidental Petroleum, in complex litigation across the U.S. His cases often involve hundreds of millions or billions of dollars in state and federal courts. Cha rose to being a top fee generator at Duane Morris, and he's a member of the firm's governing Partners Board. [...]
What has been your greatest challenge and achievement so far?
Being a good father and husband to my family while being a trusted adviser to my clients are both my greatest challenge and greatest achievement. Greatest challenge because it's hard finding the right balance between family and client. Greatest achievement because I have a loving, supportive family and good, caring clients. Taking good care of one helps me take good care of the other. Neglecting one also hurts the other. It's a symbiotic, yin-yang relationship. [...]
Why is volunteer/community work important to you?
There have been many people who have helped me during my lifetime. There have been the expected ones — family, friends, teachers. But there have been unexpected ones: the small business owner who gave my dad his first job and a free place to stay in America, the landlord who routinely forgave my family for late rent, the senior attorneys who mentored me when I was a young lawyer. I pay it forward by volunteerism and community service. [...]
How can the Philadelphia business community help heal racial division?
Racial divisions in our country run deep. If we're to defeat hate and begin healing, there has to be a holistic effort to ensure justice and equality for all. By individuals. By government. By business. Philadelphia businesses can play a critical role, but they must offer more than supportive words or flowery statements. They must leverage their influence and utilize their resources to take meaningful action within their own business and in the larger community.
Mr. Cha serves as a team lead for the Duane Morris Energy Industry Group and is a member of the firm's governing Partners Board. He litigates complex environmental, commercial and mass tort matters in state and federal courts throughout the United States. His roster of clients have included major corporations such as Occidental Petroleum Corporation, Sunoco, Inc., Exxon Mobil Corporation, LUKOIL, Aramark Corporation and other public and private companies. Mr. Cha has litigated dozens of high-exposure and high-profile cases regarding environmental contamination, business and contract disputes, defective products, and mass/toxic torts. The majority of his cases involve amounts in the millions of dollars. Many have been class actions, multidistrict litigation or government enforcement actions involving amounts in controversy in the hundreds of millions or billions of dollars.
Outside the practice of law, Mr. Cha has partnered with various nonprofit organizations such as the Law School Admission Council's Discover Law Program, the American Red Cross and pro bono citizenship clinics.
For more information, visit the Philadelphia Business Journal website (subscription required).