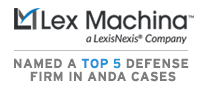 Duane Morris is named a top defense law firm in ANDA cases, according to the 2017 Hatch-Waxman /ANDA Litigation Report published by Lex Machina. Duane Morris is ranked a top 5 defense-side firm based on the number of cases filed 2009–2017Q1.
About Duane Morris' Generic and Biosimilar Pharmaceuticals Practice
Duane Morris lawyers advise clients on how to bring generic drugs to market under the Hatch-Waxman Amendments to the federal Food, Drug, and Cosmetic Act. In addition to our significant experience representing clients in litigation related to Abbreviated New Drug Applications (ANDAs), we counsel on drug approvals and market entry strategies—including 505(b)(2) NDAs and ANDA suitability petitions—working through answers to questions related to eligibility for the abbreviated and 505(b)(2) application processes, labeling, patent certifications, 180-day exclusivity provisions, and the scope of various non-patent exclusivity provisions with respect to patents listed in the Orange Book.