Duane Morris Welcomes Corporate Partner Roger S. Chari in New York
September 4, 2019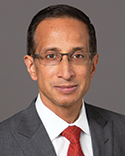 Roger S. Chari
NEW YORK, September 4, 2019—Roger S. Chari has joined Duane Morris LLP as a partner in the firm's Corporate Practice Group in the New York office. Chari further enhances the firm's corporate transactional capabilities. Prior to joining Duane Morris, Chari was a partner at LeClairRyan. He joins several of his former LeClairRyan colleagues who joined Duane Morris recently in Boston, New York and Newark.
"Roger will be an ample complement to our Corporate Practice Group," said Matthew A. Taylor, CEO and Chairman of Duane Morris. "His deep experience and collaborative, client-focused attitude will be a good fit with our partnership."
"Roger's strong finance background and sophisticated commercial practice will bring great value to our more than 150 bank and lender clients across the country," said Brian P. Kerwin, chair of the Corporate Practice Group. "He will be a solid addition to our Corporate Practice Group."
"We're excited to welcome Roger to the New York office," said Michael D. Grohman, managing partner of the Duane Morris New York office. "He will be a great business partner for our clients in New York and across the country."
Chari focuses his practice on a wide variety of secured lending and other finance transactions, primarily for lenders and underwriters but also for borrowers and issuers. He structures, negotiates, reviews and closes secured finance transactions for a wide range of domestic and foreign lending clients in different secured lending markets from $1.5 million to $6 billion, both in and out of bankruptcy. Chari's experience also includes all aspects of real estate collateral for syndicated bank finance and underwritten bond deals. That practice evolved to cover inventory and receivables, equipment, intellectual property, cash and securities accounts, aircraft, railcars, ships, precious metals, insurance policies and other specialized collateral. A significant part of Chari's practice encompasses swaps and derivatives for financial institutions, primarily on interest rate transactions but also for currency and commodity trades. More recently, he has become active in the burgeoning financial technology and online funding and derivatives trading space.
Chari is a graduate of Harvard Law School (J.D., cum laude, 1991) and Rutgers University, Newark College of Arts and Sciences (B.A., summa cum laude, 1988).
About Duane Morris
Duane Morris LLP provides innovative solutions to today's multifaceted legal and business challenges through the collegial and collaborative culture of its more than 800 attorneys in offices across the United States and internationally. The firm represents a broad array of clients, spanning all major practices and industries.