Duane Morris Welcomes IP Partner Kevin P. Anderson in Washington, D.C.
January 14, 2019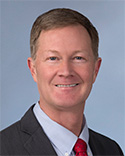 Kevin P. Anderson
WASHINGTON, D. C., January 14, 2019 − Duane Morris LLP announced today that Kevin P. Anderson has joined the firm as a partner in the firm's Intellectual Property Practice Group based in Washington, D.C. Anderson joins Duane Morris from Wiley Rein LLP where he was a partner and had been chair of that firm's patent litigation practice.
"With his deep experience in patent litigation and his impressive background in computer science, Kevin's clients benefit from both his litigator's perspective and his innovator's mindset," said Matthew A. Taylor, CEO and Chairman of Duane Morris. "He's an outstanding addition to our formidable Intellectual Property Practice Group."
Anderson assists clients in developing, protecting and capitalizing on their intellectual property. He has extensive experience in patent litigation, counseling and licensing; copyrights for technology and computer-related companies; and trademark/trade dress infringement. He regularly represents clients in the wireless communications industry and the computer industries, ranging from Fortune 100 companies to innovators and entrepreneurs. Prior to becoming a lawyer, Anderson designed software and computer systems in Silicon Valley and Research Triangle Park for more than a decade.
"We're delighted to welcome Kevin to our IP practice," said L. Norwood (Woody) Jameson, partner and chair of Duane Morris' Intellectual Property Practice Group. "He'll fit right in with our patent litigation group and we look forward to collaborating with Kevin to support the clients he is bringing to the firm and providing even greater bandwidth to support our existing clients' needs."
"Kevin adds even more depth to our robust Intellectual Property Practice Group both here in the District and across our platform," said Patrick D. McPherson, managing partner of Duane Morris' Washington, D.C. office. "He's an excellent addition to our team."
Anderson is a graduate of Duke University School of Law (J.D., with highest honors and Order of the Coif, 2000) and was a Federal Circuit law clerk to Judge Bryson. He earned his undergraduate degree from Arizona State University (B.S., magna cum laude, 1987).
About Duane Morris' Intellectual Property Practice Group
Duane Morris LLP has been ranked among the leading law firms handling patents, trademarks, copyrights and related IP litigation by national publications U.S. News and World Report and IP Law360. The firm's IP attorneys focus on leveraging clients' valuable intellectual property to help them achieve success in the marketplace, offering portfolio management and strategic advice on obtaining and protecting IP—from patents to trademarks and copyrights, to licensing and technology transfers, to IP audits and IP asset due diligence.
About Duane Morris
Duane Morris LLP provides innovative solutions to today's multifaceted legal and business challenges through the collegial and collaborative culture of its more than 800 attorneys in offices across the United States and internationally. The firm represents a broad range of clients, spanning all major practices and industries.