GEMS to Honor Duane Morris' Michael Grohman for His Pro Bono Work Fighting Sex Trafficking
May 9, 2013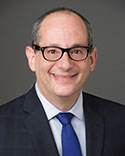 NEW YORK, May 9, 2013—Duane Morris LLP is pleased to announce that partner Michael D. Grohman is being honored as one of two inaugural recipients of the Girls Educational and Mentoring Services (GEMS) Male Allies Award.
GEMS, a nationally-recognized organization, serves girls and young women, ages 12 to 24, who have experienced commercial sexual exploitation and domestic trafficking by empowering them to exit the commercial sex industry and develop to their full potential. GEMS is committed to ending commercial sexual exploitation and domestic trafficking of children by changing individual lives, transforming public perception and revolutionizing the systems and policies that impact sexually exploited youths.
Grohman and a high-ranking State Department official will receive their Male Allies Awards on June 6 at a GEMS breakfast ceremony. Journalist Soledad O'Brien will serve as master of ceremonies, welcoming more than 200 guests from the entertainment, corporate, cultural, activism, social work and philanthropic industries. The event is designed to generate awareness of commercial sexual exploitation and domestic trafficking of children and young women, as well as to raise charitable contributions for GEMS in support of its mission.
Grohman, the managing partner of Duane Morris' New York office and chair of the firm's Wealth Planning Practice Group, spearheads the firm's work on behalf of GEMS. Grohman has not only implemented each of the pilot projects that comprise the firm's overall pro bono GEMS Initiative, but he also participates in each project along with many of his colleagues firmwide—attorneys and staff alike.
Under the 440 Motion Project, young women who have been the victims of commercial sexual exploitation are represented by Duane Morris volunteers who prepare and submit motions in state court in an effort to vacate each young woman's record from all state convictions related to the trafficking. Representation includes interviewing clients about extremely traumatic and personal experiences, requiring sensitivity and understanding on the part of the listener.
Grohman is representing a young woman in seeking to vacate her criminal record in New York State. She was first trafficked as a minor and exploited by traffickers for several years. Now, having exited the "life," she is employed and planning to return to school to become a veterinarian. She recently testified against one of her former traffickers. In working to vacate her record, she hopes to be able to apply for employment and educational opportunities without fear that her past will prevent her from having a bright future. Grohman's client, and others like her who are also represented by Duane Morris attorneys, find comfort in knowing that the State of New York formally recognizes their true status as victims—not perpetrators.
"Each GEMS member we represent is a survivor and should be allowed to live her life as she was meant to, without having to defend or explain something incredibly traumatizing and personal that happened to her," Grohman said, "For every young woman the firm represents, there are many more in need of assistance—which is emblematic of a large systemic societal problem." In Grohman's words, his client "was a child victim of commercial sexual exploitation—not a criminal—and what happened to her in the past does not define her today. There is no need for her to re-tell the world or prospective employers that part of her story."
Other projects implemented by Grohman at the firm's New York office include the Legal Lab project, a monthly on-site legal clinic enabling GEMS's members to meet with and receive counseling from volunteer attorneys from Duane Morris and the Kings County Juvenile Rights Division of the Legal Aid Society with respect to any civil legal matter.
Under Grohman's management, the New York office has also implemented various internal drives for charitable in-kind donations for GEMS's members, such as its "Back to School" drive and "Crisis Pack" drive, each of which resulted in the compilation of much-needed school supplies and emergency clothing and personal care supplies, respectively.
U.S. Ambassador-at-Large Luis CdeBaca, senior advisor to the Secretary of State and director of the State Department's Office to Monitor and Combat Trafficking in Persons, is the other recipient of the Male Allies Award.
NYPD Detective James Wong will receive the Adam Frasse Public Service Award, created to acknowledge exemplary commitment in the public service arena, for his leadership in supporting victims as they seek to exit sex trafficking. The award memorializes Detective Adam Frasse, a longtime friend of GEMS who for years went well beyond his role in investigating trafficking cases to being a true ally, helping to shape the public perception of exploited girls and young women as victims rather than as criminals—and treating them with empathy and dignity. While working in November 2009, he suffered a massive heart attack and has remained in a coma since.
Grohman credited Duane Morris alumna Charity Henson-Ballard, who was a paralegal with the firm, for initially introducing Duane Morris to GEMS. He cited the history and mission of the organization—www.gems-girls.org—which was founded in 1998 by Rachel Lloyd, a young woman who had been sexually exploited as a teenager, plus the overwhelming need for its services in the community, as making it a logical choice "to become the flagship pro bono project for our office."
"GEMS directly assists young women who are in dire situations and have literally nowhere else to turn for help," Grohman said. "At Duane Morris, we are well-positioned to help GEMS's members navigate the law in this area, particularly the New York state law under which we are filing motions to vacate criminal records stemming from the trafficking that each woman has endured. It was enacted specifically with survivors like our clients in mind."
"I'm honored to be part of a team that is navigating the law in its intended manner, to legally recognize and treat victims of human trafficking with the humanity, compassion and understanding that they so deserve and need," Grohman added.
About GEMS
Girls Educational & Mentoring Services (GEMS) is the only organization in New York state specifically designed to serve girls and young women who have experienced commercial sexual exploitation and domestic trafficking. GEMS provides its members with empathetic, consistent support and viable opportunities for positive change.
About Duane Morris
Duane Morris LLP, a global law firm with more than 700 attorneys in offices across the United States and around the world, is asked by a broad array of clients to provide innovative solutions to today's legal and business challenges.