Firm's Focus on Collaboration to Be Studied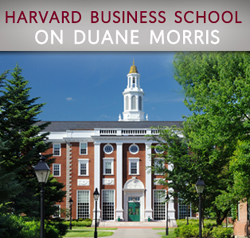 PHILADELPHIA, November 7, 2013—Duane Morris LLP is pleased to announce that the Harvard Business School recently published its second case study of the firm. The case study, entitled "Collaborating for Growth: Duane Morris in a Turbulent Legal Sector," will be part of the curriculum at Harvard Business School during the upcoming academic year and will also be available to other business and law schools for case study teaching.
As set forth in the abstract of the case study appearing on the Harvard Business Review website: "By the late 2000s, the law firm Duane Morris had transformed itself from a growing U.S. law firm to a significant global player. The firm's uniquely collaborative organizational culture, which featured a transparent, data-driven compensation system, practice-group integration across multiple offices, and rewards for attorneys who shared responsibility, had contributed to the firm's success as it had expanded into new U.S. and international offices."
To develop the case study, Heidi K. Gardner, an assistant professor of Business Administration in the Organizational Behavior unit at Harvard Business School, with the assistance of research associate Annelena Lobb, conducted extensive interviews with Duane Morris Chairman John Soroko and other firm lawyers and senior staff, and was given access to the firm's financial data. The Case Study examines the firm's success in maintaining its collaborative culture despite economic pressures impacting the global legal industry, as well as the firm's continuing expansion into new markets.
Citing Duane Morris' extensive compensation process, the case study notes how members of the firm's compensation committee "discuss all of the person's contributions in detail, from any mentoring roles taken to the person's ability to generate new business, market the firm, or assume administrative roles, and any other value the person added. In this way, the system was evidence-based and data-driven, yet extremely high-touch."
The case study will be taught as part of the university's long-standing Case Method system. The Case Method introduces M.B.A. students to in-depth studies of real businesses and challenges them to analyze and discuss the cases in class. Harvard Business School has published case studies of several of the most recognizable and successful corporations in the United States, including Apple, Ford Motor Company, Cisco and Wells Fargo. Only a small handful of leading U.S. law firms, among them Wachtell Lipton Rosen & Katz and DLA Piper, have been selected for such exhaustive examination through the Case Method.
An earlier case study of the firm, published in 2006, entitled "Duane Morris: Balancing Growth and Culture at a Law Firm," focused on the firm's rapid growth during the previous decade and the challenges it faced in maintaining its distinct organizational culture. It first appeared in the Harvard Business School curriculum in the 2006–2007 academic year and has since been featured in subsequent years and at a number of other business and law schools in the United States.
"It is an honor to once again be a subject of study by Harvard Business School," said Soroko. "Professor Gardner and her team spent considerable time with us and performed an in-depth analysis of our successes, challenges, strategies and growth during what has generally been a difficult time for the legal industry."
About Duane Morris
Duane Morris LLP, a law firm with more than 700 attorneys in offices across the Unites States and internationally, is asked by a broad array of clients to provide innovative solutions to today's legal and business challenges.