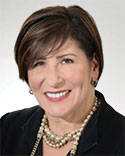 PHILADELPHIA, November 17, 2015—Duane Morris LLP is pleased to announce that Hope P. Krebs, a partner in the firm's Philadelphia office and co-chair of the International Practice Group, has been appointed chair of Multilaw, one of the world's leading associations of independent law firms with more than 8,000 lawyers in 80 member firms in 70 countries.
Krebs' two-year term began at the organization's annual conference, held on October 15–18 in Hong Kong. She has previously served within Multilaw in various capacities, including as a member of the Management Committee and Executive Council and as chair of the Future Conferences Committee and Pro Bono Mission. Additionally, she will become only the second chair from the United States in Multilaw's 25-year history; the first U.S. chair was Duane Morris partner and co-chair of the firm's International Practice Group, Thomas Schmuhl.
"It is an honor to be elected chair of Multilaw, especially at such a pivotal time in the globalization of law firms and networks," said Krebs. "Multilaw is a tremendous platform for our members, each of which is a recognized leader in its own geographic market. It enables each member firm to offer to their clients cost-effective immediate access to the rest of the world. Our clients appreciate knowing that they can access a network of trusted advisors around the world through their lawyer down the street. I look forward to further expanding Multilaw's global coverage and continuing to help our member firms erode the monopoly that a few select firms once held on cross-border legal work."
"Hope has been a leader at Duane Morris for many years. She co-chairs and helped grow our International Practice Group into a major competitor in the cross-border legal market, particularly for mid-market businesses and private clients," said Duane Morris Chairman and CEO John J. Soroko. "I am not surprised that she has been asked to take on this leadership role in Multilaw."
Multilaw Executive Director Adam Cooke added: "I look forward to working with Hope in continuing to raise the profile of Multilaw and its member firms as a leading network able to handle the international needs of clients around the globe. To date, Hope has been able to bring about some very positive changes in the organisation. I firmly believe her enthusiasm and direct approach will be well-received by our existing and prospective members and help position us for continued growth in the future."
Krebs is an international tax partner and co-chair of Duane Morris' International Practice Group. For more than 25 years, she has been providing tax and legal advice to U.S. businesses and individuals investing and expanding their business interests internationally and foreign businesses and individuals investing and expanding their business interests within the United States.
Before joining Duane Morris, Krebs was a senior manager of International Tax Services for Ernst & Young LLP. She is the co-author of a BNA Tax Management Portfolio titled 915-1 T.M. U.S. Income Tax Withholding - Foreign Persons and has written many other articles on tax law. Krebs recently completed her term as president of the British-American Business Council and continues to serve as a board member of the organization. She is a member of the executive committee and planning board for the annual Philadelphia Tax Conference.
Krebs is a 1992 graduate of New York University School of Law (LL.M., taxation), a 1987 graduate of Villanova University School of Law and a 1984 graduate of Drexel University.