Duane Morris Partner Hope Krebs Named President of the British American Business Council of Greater Philadelphia
July 7, 2011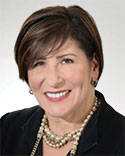 PHILADELPHIA, JULY 7, 2011—Duane Morris partner Hope Krebs has been named president of the British American Business Council (BABC) of Greater Philadelphia and began serving a two-year term on July 1. During her two years in office, she plans to continue growing membership, with a particular focus on heightened involvement in the organization by younger members, and fostering innovative programming.
Krebs will be the third Duane Morris partner to serve as a BABC chapter president. Boston-based partner Anthony Martin served as president of its New England chapter from 2005–2006, and former Duane Morris partner Richard Keck served as president in Atlanta from 2006–2007.
"I am very excited about this opportunity," said Krebs. "I have strong relationships with the British business community in the greater Philadelphia region and have really benefited from my membership and active role in the BABC. I look forward to serving the organization as president and encouraging others to become actively involved."
Krebs, based in the firm's Philadelphia office, is an international tax partner and co-chair of the firm's International Practice Group. She is a member of the International Fiscal Association, the International Tax Institute, the American Bar Association Section of Taxation committees on U.S. Activities of Foreign Taxpayers and Foreign Activities of U.S. Taxpayers, the New York State Bar Association Tax Section committee on U.S. Activities of Foreign Taxpayers and Financial Instruments, the Pennsylvania Bar Association, and the Philadelphia Bar Association. In addition, Krebs is a member of the executive committee and planning board for the annual Philadelphia Tax Conference.
Krebs is the co-author of a BNA Tax Management Portfolio titled 915-1 T.M. U.S. Income Tax Withholding - Foreign Persons and has written many other articles on tax law. For many years, she was a lecturer of law in the Graduate Tax Program at Villanova University School of Law. Krebs continues to frequently speak on international tax topics at tax conferences in the United States. She is listed in Who's Who in American Law, Who's Who of American Women and Who's Who in Finance and Industry. Krebs graduated from New York University School of Law (LL.M., taxation), Villanova University School of Law (J.D.) and Drexel University (B.S., Business Administration).
About the British American Business Council (BABC) of Greater Philadelphia
The BABC of Greater Philadelphia serves to promote increased trade and investment between the United Kingdom and Eastern Pennsylvania, Southern New Jersey and Delaware. The Council facilitates social and commercial interaction for the benefit of the individual, the corporation and the region in which it operates. Located in Center City, Philadelphia, the BABC of Greater Philadelphia is an affiliate of the Greater Philadelphia Chamber of Commerce and is supported by major businesses in the region. The local Chapter's constituency includes a cross-section of industry groups, and more than 250 members. The BABC parent organization is the largest transatlantic business network, with 24 chapters and 2,500 member companies—including many of the world's largest multinationals, based in major business centers throughout North America and the United Kingdom.
About Duane Morris
Duane Morris LLP, a full-service law firm with more than 700 attorneys in 24 offices in the United States and internationally, offers innovative solutions to the legal and business challenges presented by today's evolving global markets.