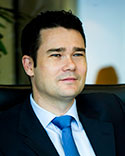 Jamie Benson
SINGAPORE, 2 April 2020 - Duane Morris & Selvam LLP is pleased to announce that Jamie Benson, Director and Head of the U.S. Capital Markets and India Practices, has been included the newly published India Business Law Journal's A-List of Top 100 India focused lawyers at international law firms. This is the second year in a row that Jamie has been included in the list after he was named in the inaugural A-List in 2019.
The International A-List is based on extensive research conducted by the India Business Law Journal and based on the independent collective views of in-house counsel and private practice lawyers in India.
About Duane Morris & Selvam
Duane Morris & Selvam LLP is the joint law venture between Duane Morris LLP and Selvam LLC, with its headquarters in Singapore. By way of its global platform and extensive range of legal services, the firm helps companies conduct business in and out of Asia, the United States, Latin America, the United Kingdom and beyond. In addition to the excellent skills of its lawyers, clients benefit from the cultural fluency and key relationships that the firm has developed over many years of practising law throughout the region. The firm has a presence in the key markets of Southeast Asia, including Singapore, Hanoi, Ho Chi Minh City and Yangon, as well as offices in Shanghai and Taiwan. Supporting these regional offices, the firm operates a series of country desks for India, Indonesia, Korea and Japan, as well as an alliance in Sri Lanka. It is regularly ranked among the region's leading law firms by Chambers & Partners, The Legal 500 and IFLR1000.