Duane Morris Partner Sandra A. Jeskie Named President of International Technology Law Association (ITechLaw)
May 25, 2010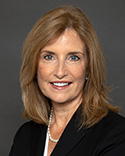 PHILADELPHIA, May 25, 2010—Duane Morris LLP is pleased to announce that partner Sandra A. Jeskie, co-chair of the firm's Information Technologies and Telecom interdisciplinary practice group, has been named president of the International Technology Law Association ("ITechLaw").
ITechLaw has been serving the technology law community worldwide since 1971 and is one of the most widely established and largest associations of its kind, with members representing six continents and more than 60 countries. Each year, ITechLaw organizes technology law conferences in North America, Europe and Asia, bringing together the finest minds in technology law today and offering opportunities for international networking. The organization also hosts webinars and roundtables and publishes a quarterly bulletin containing topics of relevance to its members. Jeskie leads a diverse executive committee and board of directors composed of leading technology lawyers from 13 countries. She has been active in the organization for many years, serving on its executive committee, board of directors and as chair of the Publications Committee.
Jeskie has a diverse national practice focused on commercial and technology-based litigation, including commercial litigation, intellectual property litigation, software litigation, e-commerce, privacy, security and Internet or computer law. Leveraging her more than 16 years' experience as a computer scientist, she also negotiates and drafts service agreements and content Internet-related agreements and counsels clients on a wide range of matters, including privacy, security policies and practices, software licensing, systems development projects, e-discovery and document retention.
Jeskie has participated in dozens of professional education conferences in numerous cities in the United States and around the world, has appeared on the CN8 morning television program and is quoted in numerous publications. She is also a co-author of chapters in The Woman Advocate and in the acclaimed treatise, Business and Commercial Litigation in Federal Courts. Jeskie has served as a special master in several cases involving technology or e-discovery and was an adjunct professor at Rutgers School of Law, Camden, New Jersey. In addition she was named a BTI Client Service All-Star for "delivering the absolute best client service." Jeskie was listed in Super Lawyers Corporate Counsel Edition in 2009 and 2010, was named a Pennsylvania Super Lawyer in 2009 and was recognized in the 2009 edition of the International Who's Who of Internet and e-Commerce Lawyers.
Jeskie earned her J.D. from Temple University Beasley School of Law, magna cum laude. She graduated with an M.B.A. from LaSalle University, where she also earned her B.A. in computer science.
About Duane Morris
Duane Morris LLP, a full-service law firm with more than 700 attorneys in 24 offices in the United States and internationally, offers innovative solutions to the legal and business challenges presented by today's evolving global markets.