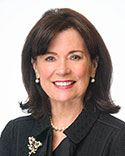 NEW YORK, April 5, 2017—Duane Morris partner Kimball Ann Lane has been elected to the board of trustees of the United States Army War College Foundation, Inc., a nonprofit organization that raises funds to benefit the U.S. Army War College. The mission of the Foundation is to enrich the college's academic environment; enhance research and outreach; foster fraternity among alumni; and encourage excellence in faculty and students—all to ensure preparation of outstanding leaders for the U.S. military, other government agencies and international allies.
In June 2016, Lane attended the National Security Seminar at the College, a four-day event during which Army War College students and invited guests examine current national security issues and exchange candid dialogue. It also provides a forum for distinguished speakers to discuss their views on issues of importance to the nation's security and welfare.
Lane concentrates her practice in insurance and reinsurance law and complex business litigation.
She volunteers her services to the City Bar Justice Center's Veterans Assistance Project and previously participated in its student mentoring program. Presently, Lane serves on the board of governors of the Union League Club, New York, where she is also a member of its History and Membership Development Committees.
Lane is a graduate of Loyola Law School, Los Angeles, where she was an associate editor of the Loyola Law Review. She attended San Diego State University and served as a director of its alumni association. Lane served as co-chair of the New York Women's Bar Association Standing Committee on Professional Ethics & Discipline. She was also president and director of the San Diego chapter of The Charter 100, a professional women's organization, and director of the Big Sisters League of San Diego.
About the Duane Morris New York Office
Duane Morris' New York office provides a complete and diverse range of services to domestic and international clients ranging from large multinational corporations to closely held entrepreneurial businesses. The Duane Morris New York office serves clients operating within the many global industries, including financial services and insurance, conducting business in the world's financial center.
About Duane Morris
Duane Morris LLP provides innovative solutions to today's multifaceted legal and business challenges through the collegial and collaborative culture of its more than 750 attorneys in offices across the United States and internationally. The firm represents a broad array of clients, spanning all major practices and industries.