Pa. Supreme Court Names Duane Morris Partner Lewis Gould to Lawyers Fund for Client Security
December 4, 2012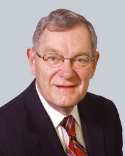 PHILADELPHIA, December 4, 2012—The Pennsylvania Supreme Court has appointed Duane Morris partner Lewis F. Gould, Jr., as a board member of the Pennsylvania Lawyers Fund for Client Security. Created in 1982, the Fund reimburses clients who have suffered a loss as a result of misappropriation of funds by their Pennsylvania attorney. Gould will serve a three-year term, which will expire in April 2015.
The Fund seeks to preserve the integrity of the legal profession while promoting public confidence in the legal and administrative justice system. It receives all of its financial resources from the members of the Pennsylvania Bar through an annual assessment. It consists of a seven-member volunteer board comprising five lawyer members and two non-lawyer members, all of whom are appointed by the Pa. Supreme Court. Each board member is appointed for a three-year term and may serve a maximum of six years.
Gould is the immediate past chairman of Duane Morris' Intellectual Property Practice Group, having served in that capacity from 1999 to 2011. For more than 40 years, Gould has focused his practice on intellectual property law, with emphasis on domestic and international patent and trademark matters. He advises clients on a broad spectrum of patent and related issues in a variety of technologies, as well as in trademark and copyright matters that include clearance, registration and litigation. He also manages patent and trademark litigation before the U.S. Patent and Trademark Office and in U.S. federal courts.
Gould is a graduate of Pennsylvania State University's Dickinson School of Law, and he received his undergraduate degree from Temple University, where he serves as a member of the Board of Trustees. Gould also serves as Chairman of the Board of Fox Chase Center.
About Duane Morris
Duane Morris LLP, a global law firm with more than 700 attorneys in offices across the United States and around the world, is asked by a broad array of clients to provide innovative solutions to today's legal and business challenges.