Duane Morris Partner Sandra Jeskie Named to "2012 Most Powerful and Influential Women of Pennsylvania"
Press release
September 25, 2012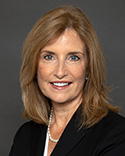 PHILADELPHIA, September 25, 2012—Duane Morris partner Sandra A. Jeskie, chair of Duane Morris' Information Technology and Telecom practice group, has been selected as one of the 2012 Most Powerful and Influential Women of Pennsylvania by the National Diversity Council. Jeskie will be recognized for her leadership in her field and in the community at the 3rd Annual Philadelphia Diversity and Leadership Conference on October 18, 2012, at the DoubleTree by Hilton Hotel in Center City, Philadelphia.
The National Diversity Council's Most Powerful and Influential Women of Pennsylvania award recognizes women who provide leadership excellence in the public and/or private sectors; sustain a record of accomplishments and/or contributions to their field of work throughout the scope of their careers; have clout within their organization in terms of significant impact on revenues, profitability and/or direction of the organization; demonstrate leadership and commitment to the community's well-being and/or high visibility in the community; and exhibit and demonstrate a commitment to the highest ethical standards and professional excellence.
Based in Duane Morris' Philadelphia office, Jeskie has a diverse national practice which includes business, technology and intellectual property litigation, as well as counseling in the areas of privacy, security and e-discovery for a wide range of international and domestic clients. She has served as a court-appointed Special Master in several cases involving technology and e-discovery and is a neutral arbitrator for the World Intellectual Property Organization, a specialized agency of the United Nations. She is also the past President of the International Technology Law Association, co-chair of the firm's e-discovery practice group and a member of the firm's Partners Board.
Jeskie is considered a thought-leader on information technology and electronic discovery issues. She has taught at nearly a hundred professional education conferences in numerous cities around the United States and in 14 countries in Europe, Asia and South America. She is a co-author of chapters in the acclaimed treatise Business and Commercial Litigation in Federal Courts, as well as The Woman Advocate and Inside the Minds and is often quoted in the press. She was also an adjunct professor at Rutgers School of Law, Camden, New Jersey. She has been twice recognized in BTI Consulting Group's annual polling of in-house counsel in a client satisfaction survey as "delivering the absolute best client service." She has been listed in Super Lawyers Corporate Counsel Edition and has repeatedly been recognized in the International Who's Who of Internet and e-Commerce Lawyers.
Jeskie earned her J.D. from Temple University Beasley School of Law, magna cum laude, and she graduated with an M.B.A. from LaSalle University, where she also earned her B.A. in computer science.
About Duane Morris
Duane Morris LLP, a global law firm with more than 700 attorneys in offices across the United States and around the world, is asked by a broad array of clients to provide innovative solutions to today's legal and business challenges.