Duane Morris' Sandra A. Jeskie Named Chair of Philadelphia Bar Association's Business Law Section
January 18, 2011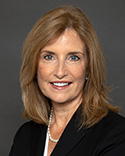 PHILADELPHIA, January 18, 2011—Duane Morris partner Sandra A. Jeskie of the firm's Trial Practice Group in Philadelphia has been elected chair of the Business Law Section of the Philadelphia Bar Association (PBA)
The Business Law Section is one of the oldest and largest sections of the PBA—the first chartered metropolitan bar association and Pennsylvania's largest local bar association—and offers business lawyers numerous educational opportunities across numerous practice areas, as well as opportunities to network with other attorneys sharing similar professional interests. Jeskie will serve in the role for one year, during which she will seek to expand the section's offerings and membership.
Co-chair of the firm's Information Technologies and Telecom practice, Jeskie has a diverse national practice focused on business and technology-based litigation, including intellectual property litigation, software litigation, e-commerce, and Internet law. She has served as a court-appointed special master in numerous cases involving technology and e-discovery and is an arbitrator for the World Intellectual Property Organization (WIPO), a specialized agency of the United Nations. In May 2010, Jeskie was named president of the International Technology Law Association. In addition, she is a co-author of chapters in Business and Commercial Litigation in Federal Courts and in The Woman Advocate, and was named a BTI Client Service All-Star. Jeskie has more than 16 years of experience as a computer scientist and was previously an adjunct professor at Rutgers University School of Law.
Jeskie earned her J.D. from Temple University Beasley School of Law, magna cum laude. She graduated with an M.B.A. from LaSalle University, where she also earned her B.A. in computer science.
About Duane Morris
Duane Morris LLP, a full-service law firm with more than 700 attorneys in 24 offices in the United States and internationally, offers innovative solutions to the legal and business challenges presented by today's evolving global markets.