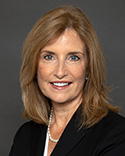 PHILADELPHIA, November 2, 2015—Duane Morris LLP is pleased to announce that the firm has been selected to receive two significant awards: one individual and one collective. Sandra A. Jeskie, a partner in the firm's Philadelphia office, was named a Woman of Distinction by the Philadelphia Business Journal. Additionally, the Philadelphia Business Journal/Forum of Executive Women has chosen Duane Morris as the global company recipient of the 2015 Advancing Women Company Award. Both awards will be bestowed at an event on November 17, 2015, in Philadelphia.
The Women of Distinction Awards spotlight the region's most influential businesswomen in a variety of industries, from entrepreneurs to high-ranking executives and influential attorneys. The Advancing Women Company Award is presented to a company or organization committed to advancing women in the workplace through mentoring programs, work/life programs, community engagement, supplier diversity, women in management and women's initiatives.
Jeskie leads the firm's Information Technologies and Telecommunications interdisciplinary group, chairs the Duane Morris Women's Impact Network for Success (WINS) and serves on the firm's Partners Board. Jeskie has a diverse national trial and information technology practice. Her litigation practice includes cases involving commercial, intellectual property, information technology and software disputes, as well as a wide range of other matters. Jeskie has handled numerous security and data breaches and counsels clients on privacy, security policies/practices, and systems development projects. Leveraging her more than 16 years of experience as a computer scientist, she also negotiates and drafts various software and technology agreements. She often serves as a court-appointed Special Master in federal court, is a neutral arbitrator for the American Arbitration Association and is a Judge Pro Tempore in the Commerce Court program.
Jeskie has received numerous accolades for her work. She has been repeatedly recognized in BTI Consulting Group's annual polling of in-house counsel in a client satisfaction survey as "delivering the absolute best client service." Jeskie has been listed by Law360 as among the "Best-of-the-Best Attorneys," one of only 15 attorneys to receive the distinction nationally as part of a survey of in-house corporate counsel; and listed as one of the "Cream of the Crop Litigators" by Law360. She recently served as president of the International Technology Law Association (ITechLaw) and chair of the Philadelphia Bar Association Business Law Section. Jeskie has taught at nearly 100 professional education conferences around the United States and in 14 other countries in Europe, Asia and South America. She is a co-author of chapters in the acclaimed treatise Business and Commercial Litigation in Federal Courts, as well as The Woman Advocate. Jeskie was also an adjunct professor at Rutgers School of Law–Camden and has been a guest lecturer at the University of Pennsylvania Law School.
Jeskie earned her J.D., magna cum laude, from Temple University Beasley School of Law. She graduated with an M.B.A. from LaSalle University, where she also earned her B.A. in computer science.
About the Duane Morris Women's Impact Network for Success
The Duane Morris Women's Impact Network for Success (WINS) is devoted to developing our women attorneys into leaders within the firm and in the industry. Through various programs, we exchange ideas, foster and expand business contacts and opportunities, and enhance attorney development in order to leverage the talent and knowledge of our women attorneys. Duane Morris is one of the Yale Law Women's 2015 Top Ten Family Friendly Firms and is consistently ranked as one of the 50 Best Law Firms for Women by Working Mother and Flex-Time Lawyers, based on the firm's family-friendly policies and business development initiatives that retain women and advance them into the leadership pipeline.
About Duane Morris
Duane Morris LLP, a law firm with more than 700 attorneys in offices across the United States and internationally, is asked by a broad array of clients to provide innovative solutions to today's legal and business challenges.