Alumni
Alumni Profiles
Robert J. Bohner, Jr.
Attorney at Duane Morris from 1991-1999
Currently Vice President & Senior Counsel at Lincoln Financial Group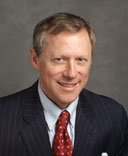 Q: What is your practice area at Lincoln Financial Group?
A: I handle labor and employment matters for Lincoln Financial and its affiliates and subsidiaries. I work on everything from hiring to compensation issues, benefits-related issues, disciplinary issues and disability-related issues that come up with respect to accommodations or leave requests, all the way to termination of employment, both involuntary and voluntary. All of this work is affected by the regulatory overlay of the unique financial securities world. We are a registered representative of FINRA (formerly NASD), so I need to know the rules and regulations around that.
Q: What did you learn at Duane Morris as an associate in the Employment and Immigration Practice Group?
A: I had several mentors, including Bruce Kasten, Tom Servodidio, Jane Dalton and former Duane Morris partner Michael Baylson. Tom taught me to ask a lot of questions and get all of the facts and documents. We were always expected to stay up-to-date in the employment and labor field, to carry the law in our heads.
Q: What interested you about the job when you first heard about it?
A: A headhunter called me while I was working in-house at the University of Pennsylvania. I found Lincoln Financial to be a company on the rise. I thought it would be an interesting challenge to go into a different industry. I was looking for a new challenge. The people were fantastic.
What I enjoy most about my job now is that I can solve problems before they pop up. Ultimately, a lawyer's job is to be a problem solver. That's what I learned first at Duane Morris.
Q: What do you enjoy doing when you're not working?
A: Spending time with my family - especially ferrying my three kids. I used to coach them in soccer. My wife coaches them in lacrosse. I volunteer my time with my church. I try to sprinkle a little golf in, too. Professionally, I'm a member of the Association of Corporate Counsel.