Alumni
Alumni Profiles
Maria Cilenti
Attorney at Duane Morris from 1997-2005
Senior Staff Attorney, Lawyers Alliance for New York
Note: When interviewed, Maria Cilenti was a Senior Staff Attorney at the Lawyers Alliance for New York. She is now Director of Legislative Affairs at the New York City Bar Association.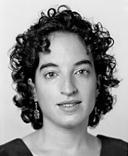 Q: You have worked at Lawyers Alliance for New York for two and a half years. Tell us about the organization and what motivated you to take the job.
A: Lawyers Alliance provides business and transactional legal services to nonprofits in New York City in the areas of nonprofit law, real estate, tax, regulatory compliance, employment law and corporate governance, among others. For the first two years, I headed up the Children and Youth Services practice area, helping out clients who serve children and youth in New York City. I also did a fair bit of counseling and teaching on personnel management issues. I am now a DLA Piper Fellow, responsible for connecting pro bono attorneys with Head Start programs so that these programs can receive much-needed pro bono legal assistance; in addition, I co-counsel these cases as needed. I was motivated to take the job because I was ready to move into a public interest or nonprofit position at the time, and this was a great match.
Q: In what ways did your experience at Duane Morris influence your career?
A: I practiced in the Trial Practice Group at Duane Morris for eight years, first as an associate and then as a partner. I really grew up there as a lawyer. I received great mentoring and guidance, and developed skills and judgment as a lawyer. That experience will always serve me well in my career. In addition, I was encouraged to do pro bono work, which was very important to me and which played a role in my decision to move on to public interest law.
Q: What do you enjoy doing outside of work?
A: Spend as much time as I can with my kids.
Q: Tell us about a recent project that you are proud of.
A: I am in my last year of a three-year term as the Chair of the Sex and Law Committee of the New York City Bar Association, which has been incredibly rewarding and has resulted in some great policy victories at the state level.
Q: What do you remember most about your time at Duane Morris?
A: Working with great colleagues, representing one of New York City's major landmarks and representing a pro bono client and helping her get a green card under the Violence Against Women Act. Also, I received great support as a working mother of two young children.