Alumni
Alumni Profiles
Kate Cutler
Attorney at Duane Morris from 2006-2008
Currently Co-Founder and Head of Strategy at bkr
When Kate Cutler heard that a good friend from law school was starting up a company, she was immediately intrigued. Her friend Tal Soltz had designed a new kind of water bottle, made from glass, that was easy to carry and also quite chic. "I was sitting at my desk at work when I got the email. I'd been a lawyer for 12 years and was thinking about doing something different. Very different," says 40-year-old Kate.
What Kate got was a refreshing change, overseeing bkr [pronounced "beaker"], a company with a staff of eight and products in more than 2,000 stores.
Q: What is your day-to-day job at bkr?
a: Everything is different from my role as an insurance coverage lawyer. I look at the big picture and strategy of our brand. I think about our retail partnerships and distribution strategy, as well as our marketing and PR strategies. I look at the countries where we want to expand, and I travel to New York and Los Angeles a lot to meet with press and buyers.
Q: What was it about the products at bkr that attracted you?
a: When my friend [co-founder and president] Tal told me about her design, there was nothing on the market like it. Nothing that I wanted to use as a consumer in terms of a water bottle. All that existed were hard-core, camping-type bottles. I was buying water every time I went to the gym, and I knew that wasn't good. The bottle is made out of glass with a silicone sleeve. I tell people it's like the perfect T-shirt: It's soft and effortless, and people fall in love with it.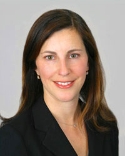 Q: What has surprised you about your new job?
A: Everything. I did a press tour in New York and went to Vogue, Elle and Marie Claire. Then there are days where we look at numbers to see what money is going in and going out, and I just think, "This is such a different experience." Coming to a startup is very different—we all wear many hats. But it's what I love; each day is different.
Q: Your brand is very fashion conscious.
A: Yes, I would say we are more about fashion, beauty and design than about being branded as green. Whether you want to be green-conscious or fashion-forward, a glass bottle is a great choice. We have appeared in Elle, InStyle and Martha Stewart Living, and we have a huge following of celebrities, like Gisele Bündchen, Natalie Portman and Jennifer Garner. We also believe in giving back. We donate a portion of our proceeds to the Obakki Foundation, which drills wells in Sudan, and designed a special red bottle for them.
Q: What is your best memory of Duane Morris?
A: My best memories of my time at Duane Morris involve the people—I really loved them. I came to work each day and interacted with people who were bright, interesting and collaborative.