Alumni
Alumni Profiles - Eric McCormick
Eric McCormick was special counsel in Duane Morris' Intellectual Property Practice Group in the New York office from 2007 to 2011. Below he shares his experience at Pernod Ricard USA and reflects on his time at Duane Morris.

Eric McCormick
Q: Describe your role at Pernod Ricard.
A: At Pernod Ricard, I serve as senior counsel of intellectual property for Pernod Ricard USA. In this role, I handle IP-related matters for Pernod Ricard's U.S. business, including searching and clearance, advertising review, licensing and other agreements, and IP enforcement. I also work daily with my colleagues via Group IP Hub at Pernod's Paris headquarters, as well as my counterparts at our various brand-owning affiliates around the world, including The Absolut Company and Chivas Brothers, to protect and enforce their IP rights.
During my time at Pernod Ricard, I have had a chance to work on some very exciting projects, including with our new Smithworks® vodka brand, for which country superstar Blake Shelton serves as the spokesperson.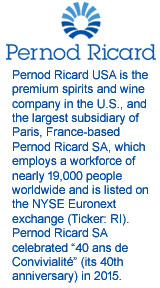 Q: What is unique about working for one of the world's leaders in wine and spirits?
A: Conviviality permeates and drives the company and its mission. Indeed, our motto is "Créateurs de Convivialité," which reflects the fact that our products are at the center of great life experiences with friends and family. To help create those moments of conviviality, we all strive to "Make a New Friend Every Day," a favorite saying of Paul Ricard, our company founder. And of course not many companies have a bar in the office!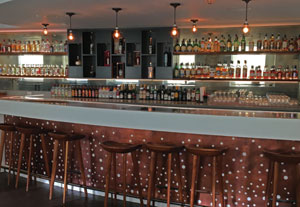 The office bar at Pernod Ricard USA.

Q: Tell us about your best memory of working at Duane Morris.
A: First and foremost, the people. I have held a fair number of jobs over the years and the people at Duane Morris are second to none in terms of their knowledge, professionalism and collegiality. I have very fond memories of working with Lew Gould, Greg Gulia and the rest of the exceptional trademark team at Duane Morris on some very interesting and complex matters for a number of high-profile clients.
Q: What do you enjoy doing when you are not working?
A: I enjoy reading, going to the movies and going to the gym (when motivated!). Lately I have been spending some long weekends on Kiawah Island, South Carolina, where my wife and I purchased a vacation villa a couple of years ago.
Q: What's your drink of choice?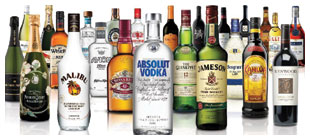 Pernod Ricard Wine and Spirits
A: That's a very hard question! We have so many products that can be used in terrific cocktails. At the moment, I would have to say it's the Absolut® Lime Mule, a great cocktail featuring our new Absolut® Lime product. Here is the recipe:
1 PART ABSOLUT® LIME
¾ PART LIME JUICE
GINGER BEER
1 WEDGE LIME