Alumni
Alumni Profiles
Dick Flannery
Currently Chief Executive Officer at The Investment Fund for Foundations (TIFF)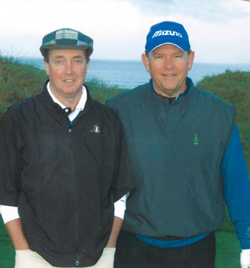 Duane Morris alum Dick Flannery and Special Counsel Rick Unger (right) on a recent golf trip in Ireland.
Former Duane Morris attorney Dick Flannery joined The Investment Fund for Foundations (TIFF) in 2003 as Chief Executive Officer. In this role, as he explained to Spotlight, he does everything from managing overall operations to, literally, doing the dishes.
Q: What is The Investment Fund for Foundations (TIFF)?
A: We are a cooperative-style investment organization that manages money for endowed nonprofit organizations. Large nonprofits and universities have in-house investment folks to manage their endowments. We provide that service, and related investment services, as an "outsourced Chief Investment Officer" to some 800 non-profits in 43 states. In fact, if TIFF were itself a university endowment, we would be the fifth- or sixth-largest university endowment in the United States. We manage more than $10 billion. We often see Duane Morris attorneys in our work. For example, we manage money for the Philadelphia Museum of Art, where Chairman Emeritus Shelly Bonovitz is a Trustee, and for the University of the Sciences, where partner Dave Loder serves as outside legal counsel.
Q: Your website says that "No member of TIFF's staff is too exalted to perform, when necessary, the duties of the least-senior or lowest-paid employee." Can you give an example of that?
A: We take that very seriously. Each of our teams has kitchen duty. When it's my team's week, I join the team and wash dishes. If it's late in the evening, and copies need to be made, I make copies. We're all part of a team. Nobody who thinks he or she is very important should work here.
Q: What did you learn in your time at Duane Morris?
A: In my time at Duane Morris, we worked very hard, but we also had a lot of fun. For example, Jack May once walked up behind me as I was doing my best Fred Dreher impersonation for some of the other associates. Jack dragged me into Fred's office and made me repeat the bit in front of Fred. I was mortified! Jack was chairman of the Firm at that time and Fred was chair of the business department, but when we handled a matter together, we were just three lawyers working on a deal. It was an approach that I've tried to carry over here at TIFF.
I have extremely positive memories of my time at Duane Morris. At a pretty young age, I had the opportunity to work directly with senior partners, such as Shelly Bonovitz; Vince Garrity; Rollie Morris; Kate Shay; and Dave Sykes. Shelly gave me the chance to handle personally a small acquisition for Ralph Roberts of Comcast. And while I was a corporate lawyer, I even had the opportunity to argue in federal court alongside (now Judge) Mike Baylson. I learned more about how to be a professional in my seven years at Duane Morris than in the 24 years since I've left.
If I were ever looking to move back to a law firm, Duane Morris is the only door on which I would knock. I have a number of great friends at the firm with whom I'm still close. It was just a terrific experience for me.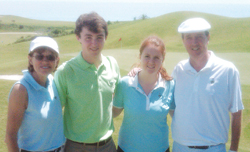 The Flannery family: Ann, Kevin, Carolyn and Dick playing golf in Bermuda.
Q: What do you like to do when you are not working?
A: After my family and my career, golf is my passion. Not just the playing of the game, but also course architecture, golf history, golf agronomy and golf travel. I am part of a golf group that includes Duane Morris Special Counsel Rick Unger and Duane Morris alum Pete Clark. We travel all over the world playing great courses. I'm also a member of Stonewall Golf Links. Jack May was the founder of that Chester County golf club. He recruited me to be part of Stonewall's founding team a few years after I left the firm. He said, "Dick, I found an interesting piece of dirt," and built it. I was the youngest general partner at Stonewall and for a while was president. I am now chair of Stonewall's green committee. A Duane Morris presence remains at Stonewall. Partners Frank Cooper, Mike Gradisek, Tom Spencer and Matt Taylor all play there.
I've also gotten involved in the non-profit world: I serve on the boards of Mercy Investment Services, Inc.—a non-profit investment firm serving the Sisters of Mercy—and The Nelson Foundation, a charity that focuses on the unmet needs of children in the greater Philadelphia region.