Alumni
Alumni Profiles - Neha Pandya Dave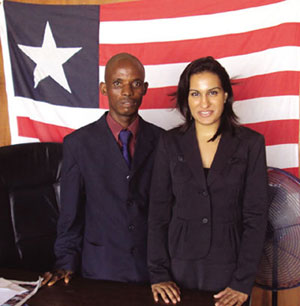 Neha Pandya Dave (right) with Stipendiary Magistrate of Monrovia, Nelson Chineh, during an Inception Mission to Liberia in advance of the implementation of a six-month African Development Bank-funded project to train approximately 2,000 judicial officers in areas, including case management and tracking, courtroom administration, writing judicial opinions and record-keeping.
Neha Pandya Dave joined Duane Morris in 2005 as a Summer Associate from Temple University Beasley School of Law. Upon graduation from law school in 2007, she rejoined the Firm as an Associate in the Employment, Labor, Benefits & Immigration Practice Group. In July 2009, Neha joined the Kampala, Uganda-based International Law Institute-African Centre for Legal Excellence (ILI-ACLE), an affiliate of the International Law Institute in Washington, D.C.
Q: Describe your role at ILI-ACLE.
A: In 2009, I was recruited as the Deputy Director- Programmes & Special Projects and eventually became Director-Programmes & Special Projects. Currently, I serve as Senior Director-International Initiatives, where I am responsible for developing relations with the U.S. and international legal and business community. In nearly seven years as a member of the Institute's core leadership team, I have overseen the design and implementation of post-professional training programs for African lawyers, judges and related professionals. I also have managed technical assistance in rule of law reform benefitting more than 35 countries on the African continent. Our technical assistance has ranged from providing support to the Government of Rwanda with redrafting 16 commercial laws, to the establishment of enhanced systems for dispute resolution, including a commercial court in the Kingdom of Lesotho, as well as the training of 2,000 judicial officers in case management and tracking, record-keeping and courtroom administration in the Republic of Liberia.
Q: How did you get involved with the organization?
A: My paternal great-grandfather was a pioneer amongst Indians who migrated to East Africa during a time when both India and much of East Africa was under British rule. He served as a Clerk to the High Court of Uganda in the early 1900s. My grandfather was subsequently born in Uganda, and my father spent his childhood in Uganda. Although I was born and raised in southern New Jersey, I always had a longing to retrace my father's history. After my 1L summer at Duane Morris, I searched for legal internships in Uganda and found ILI-ACLE, where I initially spent my 2L summer.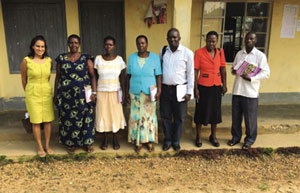 Neha Pandya Dave (far left) accompanying members of the Kyabuyimbi Sub-Country Local Council Court in Bushenyi District (western Uganda) during a visit to determine changes in the court's operations and decision-making following training of the court held in the previous year.
Q: What are some of the challenges you face in your role?
A: As in other developing jurisdictions, our greatest challenges in the region stem from a lack of systems. Whether reflected through gaps in the electoral processes, the inability for crime victims to receive protection from the police or the impediments for vulnerable communities seeking access to medicines at public health facilities, without systems, access to these services is reserved for the elite few.
Governance issues permeate throughout and contribute to the failure of systems, particularly in public-sector institutions, which makes doing business in the region particularly difficult to navigate. The biggest surprise and challenge for me involves identifying and confronting issues of corruption, but given that the development of legal and governance structures is at the heart of ILI-ACLE's work, it has also been our opportunity.
Q: What are the best parts of your job?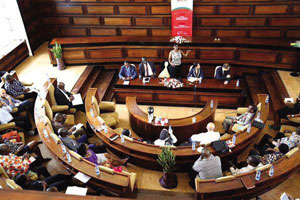 Neha Pandya Dave (second from the right) participating in a panel discussion with Executive Director of the Kampala Capital City Authority, Jennifer Musisi (standing, center), addressing an ILI-ACLE and the Ramboll Consulting Group (Denmark) delegation from Afghanistan, Burkina Faso, Ghana, Palestine and Tanzania in Public Sector Leadership, co-funded by the Danida Fellowship Centre.
A: Africa's reputation is infected with what we call "BBC Syndrome"—negative headlines capturing a single story, such as a continent suffering from starvation, civil wars and the Ebola crisis. The Africa I see every day is very different. There are a number of public-sector institutions and a burgeoning private sector across the region led by visionaries and supported by highly competent and motivated people eager to see change. These pockets of success provide a true indication that greatness is possible for the continent.
I am grateful to be perched at a vantage point where I can see and work to facilitate the continent's clear and steady progress. The Uganda I knew as an intern in 2006 is a world apart from the Uganda of 2016. As a result of improved and more predictable systems, we have seen an influx of regional and foreign investment and, correspondingly, world-class shopping malls, five-star hotels and an impressive countrywide road network. The best part of my job is being able to contribute to an alternate story about the continent—one of Africa rising—and helping international partners be a part of this movement.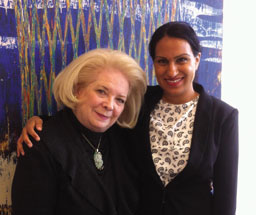 Neha Pandya Dave (right) with Duane Morris partner Sheila Hollis.
Q: What is your proudest accomplishment at ILI-ACLE?
A: Uganda is highly decentralized, with more than 80 percent of the population living rurally. For the majority of the country's rural poor, the formal court systems remain inaccessible, in terms of physical, financial, technical and psychological access. In turn, nearly 30 years ago, the government created court structures operating locally at the village level (i.e., local council courts (LCCs)) with jurisdiction to hear a wide range of civil matters and some criminal matters involving children. Although well placed to serve the local population, with more than 60,000 LCCs countrywide, these courts have not received the support required to effectively operate and resolve disputes.
Since 2013, on behalf of ILI-ACLE, I have been spearheading the largest and most comprehensive effort in Uganda to date to improve access to justice through the strengthening of LCCs, in partnership with the Uganda Ministry of Local Government and the Justice, Law and Order Sector, with bilateral financial support from seven European countries and the European Union. Under this program, we have developed a comprehensive curriculum for LCCs covering human rights, judicial ethics, court administration and procedures, the rights of children, domestic violence, customary land and mediation. By June 2016, we will have educated more than 4,500 beneficiaries, 900 of whom have been trained as trainers.
ILI-ACLE's greatest achievement under this initiative has been our role in working alongside the Ministry of Local Government, ensuring their ownership of interventions at every stage and garnering multi-stakeholder support at local and central government levels, including from the Judiciary of Uganda, to assure that our efforts are sustainable for years to come and lead to systemic change.
Q: Do you have other projects on the horizon?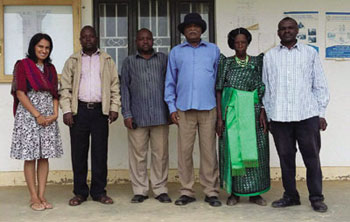 Neha Pandya Dave (far left) with members of Rwamacucu Sub-County Local Council Court, Bushenyi District (western Uganda) during a monitoring visit of court operations.
A: In 2014, I was selected to participate in a leadership development initiative under the Acumen East Africa Fellows Program. In addition to financial, operational and moral imagination skills, I gained access to an incredible network of social change leaders and social entrepreneurs across East Africa who continue to challenge and motivate me to further my initiatives. I have since been invited to join the Board of Directors of a couple emerging organizations; the first is a microfinance organization launching in July 2016, which is one of a handful of MDIs licensed by the Central Bank of Uganda, and the second is a nonprofit organization working to educate and gainfully employ youth from Kampala's poorest urban slums. These opportunities provide me with a deeper appreciation for the region's development challenges and opportunities. As I enter my seventh year in Uganda, I believe my journey is just beginning.
Q: How did your time at Duane Morris prepare you for international work?
A: My nearly two years at Duane Morris were tremendously valuable, providing me with a core skill set as a lawyer, a competitive edge in research and drafting, an appreciation for business development and a network of highly accomplished peers and mentors. My early training in areas of commercial law gave me a more balanced perspective in addressing "softer" legal issues, including human rights and governance, and in understanding the linkage between an enabling investment climate and the protection of rights. •