Alumni
Alumni Profiles
Ricardo Núñez
Attorney at Duane Morris, 1985-1990
Currently Vice President, General Counsel - Securities & Regulatory at The Penn Mutual Life Insurance Company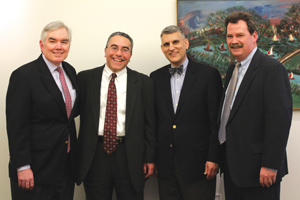 Ricardo, center right, with Duane Morris partners Tom Ringe, Tom Servodidio and Tom Spencer, meeting at Duane Morris' Philadelphia office before going to a Flyers game together this past spring.
As Vice President, General Counsel - Securities & Regulatory at The Penn Mutual Life Insurance Company, former Duane Morris associate Ricardo Núñez uses skills gleaned from his past positions at the Financial Industry Regulatory Authority (FINRA), the Securities and Exchange Commission (SEC) and the U.S. Attorney's Office for the District of Columbia. But it was his first job, as a Duane Morris summer associate, that would set the course for the rest of his career.
Q: Tell us about your new role at Penn Mutual.
A: Penn Mutual is a life insurance company with a broker-dealer component. I am responsible for anything related to securities and regulatory at Penn Mutual and its in-house securities broker-dealer, Hornor, Townsend & Kent. I also oversee all investigations. I like to say that I started preparing for this job when I started in 1985 at Duane Morris.
Q: How did Duane Morris prepare you for this new role, so many years later?
A: I still have my Duane Morris handbook given out to first-year associates with the famous work-product memo tucked in. I still abide by that concept of turning in work that is as complete as possible, and I have the people who work for me abide by it. I like to see a final product, even though it may need to be revised.
Q: Who were your mentors at Duane Morris?
A: I worked for Mike Baylson on accounting malpractice cases and other matters, as well as Gene Pratter on professional malpractice and commercial litigation. It's interesting that both of those early mentors are now federal judges.
Q: What is one of your favorite memories of working at Duane Morris?
A: It's a funny story. I was told to report to Duane Morris as a summer associate on May 21, 1984, in a conference room at the Firm's Philadelphia office. I walked into what I thought was my designated room and sat down, and there were a number of people meeting. It turned out to be then-U.S. Sen. Arlen Specter and others meeting with Mike Baylson, who was treasurer of Specter's campaign during his bid for reelection in 1986. The meeting continued, and I realized I was in the wrong place. I was embarrassed to be there, but I didn't want to just get up and leave. When the phone rang, Baylson picked it up and then turned and said to me, "Are you Ricardo Núñez?" I said I was. "You should be one floor down," said Baylson. I left the room. It was perhaps not the most auspicious beginning.
My more professional memories from Duane Morris included great litigation training. I had the opportunity to take hundreds of depositions in the five years I was an associate at Duane Morris, and I got to try a lot of arbitrations. My litigation experience helped me to land my next job at the SEC working on insider-trading cases.
Q: What do you do when you're not working?
A: My wife, Valerie, and I have a daughter, Alex, and a son, Cristián, who are active in lacrosse and baseball, as well as other school teams. We spend a lot of time watching high school and middle school sports. We are very active in our parish; I'm a youth minister for the seventh grade Confirmation preparation at my church. We also love skiing, which we hope to do more of now that we are back in Pennsylvania after 20 years in Virginia. And, of course, we especially enjoy treks to my alma mater, Penn State, to watch sporting events.