Alumni
Alumni Profiles
Judge Karen Overstreet
Attorney at Duane Morris from 1983-1986
Currently a Bankruptcy Judge in the U.S. District Court for the Western District of Washington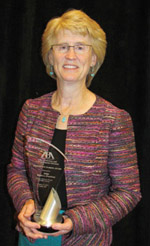 Judge Karen Overstreet
When Karen Overstreet became a bankruptcy judge in the U.S. District Court for the Western District of Washington 20 years ago, she brought with her valuable experience and training she acquired at Duane Morris. She recently told Spotlight about her favorite part of being a judge and about her work with CENTS, a financial counseling nonprofit.
Q: How long have you been involved with high school financial literacy education?
A: CENTS, as it is now known, was formed in 1995, a year after I became a judge. We began as an ad hoc group of professionals who wanted to help those with financial challenges before they ended up in bankruptcy court. We partnered with the King County Bar Association, which provided support for the free debt clinic that was staffed by volunteer attorneys—most with bankruptcy experience. To address financial literacy, we began by creating programs for adults.
Fortunately, with grants and strong support from our local bankruptcy professionals, we organized as a 501(c)(3) entity and, in 2002, hired a fulltime, paid Executive Director. Today, our CENTS board consists of lawyers, financial professionals and law professors. Along with a colleague, I act as a CENTS Judicial Liaison, and court staff participate in special projects. We now offer the credit counseling and post-petition debtor education programs required under the Bankruptcy Code after the Bankruptcy Abuse Prevention and Consumer Protection Act. CENTS financial education courses for adults include Money Sense, a two-hour money management course; Financial Evaluator, an online program to help people evaluate their financial standing; and Smart Borrowing, a 40-minute educational video and workbook about making wise borrowing choices.
I regularly visit high schools in Western Washington to talk about teens and credit. We are also working on a proposal to the Seattle School District to create a "teach the teachers" program to provide for-credit instruction to high school math teachers on how to incorporate financial literacy concepts into their math curriculum. We hope that the alignment of financial literacy concepts with the math curriculum will facilitate a broader and more consistent distribution of the material. You can learn more about Debt Slapped at www.debtslapped.org.
Q: What do you like most about your work as a judge?
A: As a judge, I like not having a stake in the outcome (i.e., not being an advocate). That allows me to "do right," as dictated by the law and the facts. Bankruptcy courts provide needed relief to many, and I enjoy participating in a process that can make a difference for those who require that relief.
Q: What is your best memory of working at Duane Morris?
A: My best memory of Duane Morris is difficult to choose! I have so many fond memories of the Firm, such as Dave Sykes and the bankruptcy crew in the 1980s—what could be more exciting? There were lots of big bankruptcies around the country waiting for young Duane Morris lawyers, who were given considerable responsibility. Life was fast and furious at the Firm, with many late nights, Federal Express deadlines and take-out meals.
Other great memories: carpooling from the Delaware River to Center City with my fellow associate, [Bankruptcy and Business Reorganization Partner] Margie Reed; discovering life on the Main Line; asking Margie if I could take her car to Camden; and watching [now U.S. Court of Appeals Judge] Marjorie "Midge" Rendell use a dictating machine.
The best part of Duane Morris was its welcoming environment. I had never lived away from the Northwest before I moved to New Jersey/Pennsylvania. I knew no one. Duane Morris became my family.
Q: What do you enjoy doing when you are not working?
A: I haven't had much spare time in the last few years. My terrific husband and two fantastic teenage boys and their activities have kept me pretty busy. I also enjoy running, walking, biking, gardening, traveling and playing drums with my family and friends.