Alumni
Alumni Profiles
Judge Gene E.K. Pratter
Attorney at Duane Morris from 1975-2004
Currently a Judge, U.S. District Court for the Eastern District of Pennsylvania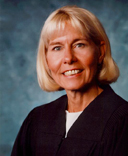 There are some lawyers who practice at one law firm for decades, so deeply embedded in and committed to the firm's history and future that the firm and lawyer seem almost inseparable. With her successes, dedication and leadership at Duane Morris, many at the Firm pegged Gene Pratter as a Duane Morris "lifer."
But in 2004, after 30 years at Duane Morris, her professional life took an exciting and welcome turn. Gene's legal acumen, her ability to dissect complex problems and identify the core issues, her intolerance of circular logic and her penchant for direct and concise communication were recognized as attributes that would make an outstanding judge. Gene was unanimously confirmed to the United States District Court for the Eastern District of Pennsylvania.
Clearly, 30 years at Duane Morris was just the beginning.
Having moved to Philadelphia from California, Gene was a summer associate at the Firm and worked part time during her final year in law school, joining the Firm full time following her graduation from the University of Pennsylvania Law School in 1975. Her legal practice focused on general civil litigation, particularly construction, employment, contract, and insurance coverage disputes. Later she developed a concentration in professional liability matters. She practiced before state and federal courts and regulatory bodies. During her career at Duane Morris, Gene was a mentor to many of the Firm's lawyers, as well as a Firm leader. Gene served as Duane Morris' first general counsel from 1999 to 2004. In addition to being the general counsel, she chaired the Firm's ethics committee, served as Vice-Chair of the Trial Practice Group, and was a member of the Partners Board.
Gene's dedication to ethics and professionalism extended beyond work for clients. She served as the co-chair of the ABA Litigation Section's Committee on Ethics and Professionalism and chaired the Professional Responsibility and Professional Guidance Committees of the Philadelphia Bar Association. While in practice she performed pro bono work for several Philadelphia charter schools and represented children in custody disputes and child abuse cases as well as participated in efforts on behalf of Community Legal Services and other community-based activities and initiatives.
On the federal district court, Judge Pratter currently serves with former Duane Morris partner, Judge Michael Baylson, who practiced law with the Firm for 27 years.
Gene Pratter was as much a part of the Firm's fabric as its founders and former Firm leaders like Morris Duane, Henry Reath, John Martin and David Sykes, all of whom she has publicly credited with teaching her and other earlier generations of Duane Morris lawyers the meaning and importance of dedicated practice, selfless professionalism, community involvement and collegiality. She expressed those lessons in the way she mentored others. In her article, "A Letter to My Daughter" published in The Philadelphia Lawyer in 1999, Gene advised aspiring attorneys to "hold on to a sense of self-confidence, of responsibility for your own well-being and that of others with and for whom you work, and of the obligation to preserve and promote your career choice with honor and integrity."