Alumni
Duane Morris Remembers Our Friend and Partner Dave Sykes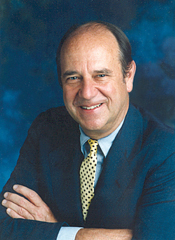 "They don't come any better than Dave Sykes—in terms of human being, lawyer, leader, teacher, mentor, friend, motivator, visionary. Dave was all these things. He was the first big-firm lawyer in Philadelphia to introduce bankruptcy law as a highly respected practice area. Then he developed the practice for Duane Morris, growing the Business Reorganization and Financial Services practice group from two lawyers to the firm's national practice today. He was a passionate, tireless advocate for his clients, and his work ethic was second to none. Dave shied away from praise for himself, and always gave credit to others. He cared, really cared, about his people—lawyers and clients alike. And, of course, he loved his family and was so very proud of his two sons, David and Matt. I was lucky enough to start working with Dave in 1975, and he mentored me for 20 years. I can truly say that I would not be where I am today were it not for Dave Sykes' belief in me, and his invaluable tutelage and advice over the years."
The Hon. Marjorie O. Rendell, former Duane Morris partner, a judge on the U.S. Court of Appeals for the Third Circuit and First Lady of Pennsylvania
"So many benefited from Dave's wisdom, his patience, his loyalty, his selflessness and his kindness. One of the most remarkable things about Dave was that he truly did not realize how he positively impacted the professional and personal lives of so many people: partners, associates, staff, co-counsel and adversaries alike. He avoided the limelight, and he was always content to let others get the credit for so many of the great results that he was instrumental in achieving."
Rudolph J. "Skip" Di Massa, Jr., current head of the Business Reorganization and Financial Restructuring practice group at Duane Morris
"David T. Sykes was the quintessential Philadelphia lawyer and my mentor. He was a man of compassion, integrity and good humor who inspired all who knew him, especially younger lawyers at Duane Morris. I was one of those younger lawyers in the late 1970s whose career was forever changed by my exposure to Dave. He taught me by his example that professional excellence is earned the old-fashioned way through hard work. By any measure, he was a superb role model for how to practice law and how to live a life. He will be remembered for his unselfish commitment to the profession that he loved, but most of all for his humanity and his devotion to others."
The Hon. James M. Peck of the U.S. Bankruptcy Court for the Southern District of New York and Duane Morris alumnus
"I am profoundly saddened by Dave Sykes' death. He was a brilliant lawyer, a role model for many of the current generation of leaders in bankruptcy and in the law generally, both inside and outside of Duane Morris, and a great friend to all who had the privilege to know and work with him. He led Duane Morris to national prominence in the area of bankruptcy law and contributed to the firm in countless ways over the years. In my mind, he was the consummate partner."
John J. Soroko, Chairman and CEO of Duane Morris